Mogao Caves
According to Tang Dynasty records, a monk had witnessed onsite a vision of thousand Buddhas under showers of golden rays. Thus inspired, he started the caves construction work that spanned ten dynasties. Mogao Caves are commonly known as the Caves of a Thousand Buddhas.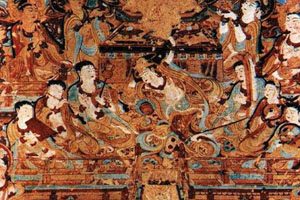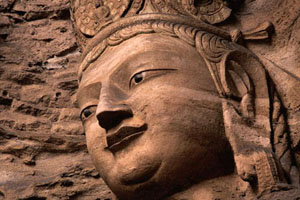 Mogao Caves, also called Mogao Grottoes or the Caves of a Thousand Buddhist, are set into a cliff wall of Echoing-sand Mountain about 25km southeast of the oasis city in the Gobi desert, Dunhuang. The Mogao Caves are the best known of the Chinese Buddhist grottoes, and along with Longmen and Yungang are one of the three famous ancient sculptural sites of China. The Mogao Caves became one of the UNESCO World Heritage Sites in 1987.
The honeycombed caves, enjoying a millennium long construction from the 4th to the 14th centuries and marking the height of Buddhist art, are the world's richest treasure house of Buddhist sutras, murals and sculptures. At its height, the cave complex had thousands of caves. A total of 492 grottoes remain after thousand year's vicissitude, covered with 45,000-square-metre fascinating murals.

There are also 2,400 painted statues and over 250 residential caves. Almost every grotto exhibits a group of colorful clean-cut paintings of Buddha and Bodhisattvas, and other religious paintings, or social activities of different dynasties. The caves carved on the cliff wall provide voluminous research materials for the study of all aspects of the social life, such as religion, art, politics, economics, military affairs, culture, literature, language, music, dance, architecture and medical science in mediaeval China. The splendid culture and art unearthed here stimulates worldwide interest and now a new international subject called Dunhuangology forms.
The mural paintings remained in the Mogao Caves can be divided into seven categories, including the jataka stories depicting beneficence of Sakyamuni in his previous incarnations, sutra stories depicting suffering and transmigration, traditional Chinese mythology and so on. Although the religious scriptures are primarily Buddhist, written in Chinese, Uygur, Tibetan, Turkic and other languages, they are not limited to Buddhist. Taoist, Manichean and Confucian scrolls are also part of the collection.