Dunhuang Museum
Located at Yangguan East Road in Dunhuang City, Dunhuang Museum was established in 1979. It was previously the location of an archaeological group of the county culture centre (Dunhuang City was a county as that time). The Dunhuang Museum focuses on historic cultural relics. Its construction area is 2,400 square meters.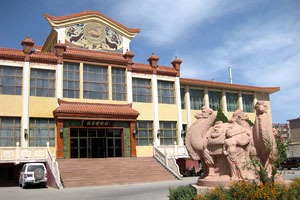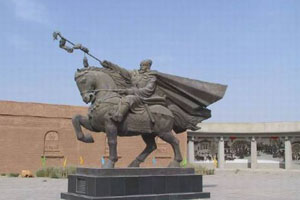 The present cultural relics housed in the Museum are more than 4,000 pieces. They are divided into three parts: The first part mainly shows: the documents in the scripture hidden hole (the seventeenth hole) in Mogao Caves, Dunhuang. The second part mainly shows: unearthed cultural relics in the tombs mostly from Han Dynasty, Three Kingdoms Period, Jin Dynasty, Sui Dynasty and Tang Dynasty. For example, stone tablets, stone towers, pottery boxes, ancient pottery cooking vessels, beasts guarding the tombs, lotus flower bricks and kylin bricks (A kylin is embossed on the brick.). The rarest is the kylin bricks. The third part mainly shows: material objects such as silk, brocade, thin silk and gauze which provides ample material objects, references and evidences to 'Silk Road'. Besides, Hanjian, iron and copper tools, and weapons are shown which offer precious materials to study the communications of politics, economics and cultures between China and other countries.

In the Dunhuang Museum, there are two show rooms of historic cultural relics. The exhibit consists of more than 2,000 objects of precious cultural relics unearthed in the local area. The exhibit covers the period from primitive society to the end of the Qing Dynasty. It shows all kinds of potteries, currencies, grind stones, tiles, bronze ware, silk, pearl and jade, etc; the exhibition of the Great Wall in the Han Dynasty mainly introduces the site of the Great Wall within Dunhuang. It displays unearthed material objects such as Hanjian, rough papers, barley, millet, big torches and small torches used in the signal fire platform, and the model of the Great Wall; the exhibition hall of celebrity's writings and pictures mainly shows the writings and paintings of the celebrities, calligraphers and painters from Dunhuang. There are famous 'Dunhuang Posthumous writings' unearthed from the scripture hidden hole in Mogao Caves, Dunhuang, and rare scriptures by Zang characters, and precious ancient writings about the geography, weather and military affaires. These are all the treasures that keep the museum attractive.
In the courtyard in front of the main building, there is a group of large-scaled sculptures symbolizing people walking while leading the camels in the ancient Silk Road.