Yangguan Pass
Yang Pass (Yangguan), also known as the Southern Pass, sits 75 kilometers southwest of Dunhuang, and was originally built by Emperor Wu in Hang Dynasty as one of the two most important passes protecting Dunhuang from invasion from the west (the other pass is Yumen Pass (Yumen Guan)). Yangguan Pass was established in 121BC of the Western Han Dynasty (206BC – 24AD) to defend against the attacks of other minority nationalities and to develop the area of Xiyu – the western regions of Han Dynasty being the area west of Yumenguan Pass including what is now Xinjiang and parts of Central Asia.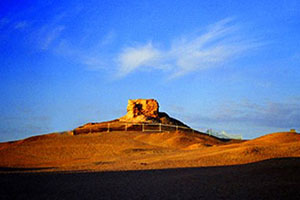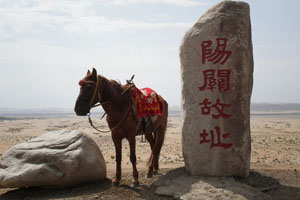 Yangguan Pass once was the gateway to the Xiyu area and an important pass on the Silk Road. Eminent Buddhist monk Xuan Zang set foot there on his return to Chang'an (Xi'an) from India. During that period, Yangguan Pass, as a military stronghold, was rich in water and was an oasis.
In modern times, Yangguan Pass is quite ruined with great sections buried in the shifting sands. However, at its heyday, this system of beacon towers and walls marked the western border of the Chinese Empire. Again, today, there are hardly any walls in sight, the only visible sections being the foundations of some of the walls. To the south of the mound is an expanse where one may find millions pieces of broken tile over an area of twenty square kilometers, some of the last evidence of civilization here.

Do not be dismayed by the loss of civilization and historical grandeur, for the museum of Yangguan Pass offers you a glimpse of history. Here there is an exhibition hall of the Silk Road, a decorated archway of Han Dynasty, an old street of Yangguan Pass, the art of great mural in Silu Youyi Tu (Silk Road Friendship Picture), large engravings, Yangguan Pass stone carvings and so on. It is a living history of Yangguan Pass's ups and downs that also shows the construction style of the Han Dynasty. The distinguishing feature of Yangguan Pass Museum is that you not only see ancient items in a way that gives you a sense of life at that time, but you also have the opportunity to experience riding and shooting.
In addition, Nanhu Village has the largest vineyards of its province and the newly built national desert forest park gives a new fresh feeling in contrast to the historical site.So come to Yangguan Pass, uncover her thousand mysterious veils, and taste the full-bodied grape wine.