Labuling Lamasery
Labuling Lamasery, formerly known as Zhaxiqi Lamasery, located in Xiahe County of Gansu Province, and facing Longshan (Dragon Mountain) across only Daxia Rever, built by the river side at the mountain foot is the largest lamasery of the Zang Buddhism, and regarded by the Tibetan nationality as a treasure bowl.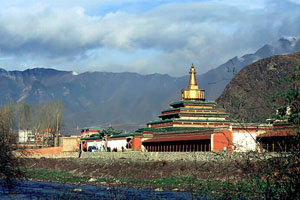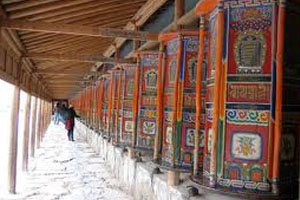 The construction of Labuling Lamasery was started in the 48th year of Emperor Kangxi reign (1710), by Living Buddha Jiamuyang the First. The large-scale buildings are cradled in-between the two Tibetan towers standing at each end of the Phoenix Mountain. They embrace 6 scripture halls, 84 Buddhist halls, 31 Tibetan-style towers, 31 Buddhist palaces, over 500 rooms of Sutra cylinders, more than 10,000 dormitories for monks, totaling 400,000 square meters in construction area. Resplendent and magnificent in appearance, and most well known for its six grand colleges, Labuling Lamasery has been the largest educational institution for Lamaism in the world.

Labuling Lamasery is a temple with the largest collections of scriptures in China, tens of thousands of cultural relics as well as over 60,000 volumes of Tibetan classics. It also houses a gold stature of Buddha with a height of ten meters, a mummy of a senior monk wrapped in gold, nearly 1.7 meter-long tusk etc.