Baoshan Stone Village
Stone village is in fact an ancient village with about 100 families living on the peak of the mountain with a mushroom shape. This mysterious village, facing the Chin-sha River, is embraced by steeps in the other sides. Therefore, there are only the North and South Gates as the access to the village. While, inside the gorgeous village the wide natural rock roads will show you around the amazingly splendid but simple stone-made architectures.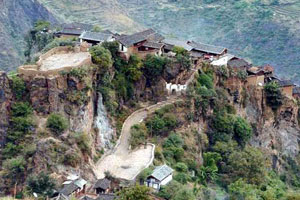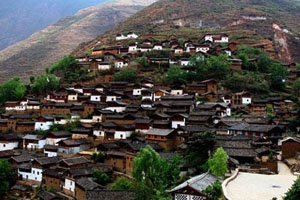 About 100km north of Lijiang, Baoshan Stone Village (baoshan shicheng) is located on a Herculean rock in the Jinsha River Valley. Virtually everything in the village is made of stone: stone ovens, stone water vats, stone beds, stone chairs and so on. The village is surrounded by cliffs on four sides with the Jinsha River flowing below and a small path leading to the outside world, one meter wide, creeps along the edge of the village.

The marvelous terraced fields created on the rocks with the clear mountain spring flowing down are a magic place where various sceneries can be seen. On the arrival of the spring, the newly transplanted corps is adorably green, while when the autumn falls, you will lose yourself at the scene that the golden rice, wheat and corns waving with the breeze. In addition, the huge stone carvings on the steep cliffs, created by the ancestors of the Naxi people, are the most spectacular scene that makes the tourists astonished.

Opening Hours: 8:00 -- 18:00

Ticket Price: 20 CNY

Location: 100 km away from Lijiang City

Transportation: Shuttle bus from Lijiang will bring you here.