Eating in Lijiang

Famous Local Food

Authentic Naxi cuisine includes many kinds of snacks and dishes with refreshing taste. Besides, as a popular tourism destination welcomed by lots of visitors from home and abroad, Lijiang has a number of western-style restaurants serving delicious dishes with Chinese flavor. Some former visitors have opened their restaurants here, providing new travelers with a place not only for delicious food, but also to share their unforgettable experiences in Lijiang.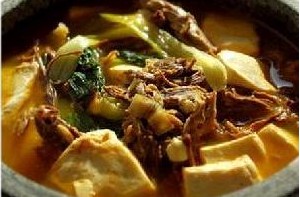 Famous Local Dishes
Air-dried Pork Liver (Chui Zhu Gan)
Air-dried Pork Liver is a must dish for treating guests to meals by Naxi people. With specific cooking method, this snack is delicious and attractive in color. In December of Chinese lunar calendar, pork liver should be air-dried and sun-dried first. Then cut it into slices after cooking. Finally, add some coriander, fried peanuts, salt, vinegar, pepper and sesame and mix all of them evenly.

Stewed Chicken with Bean Curd (Yan Ba Jiu)
This delicious Stewed Chicken with Bean Curd consists of local chicken, ham, bean curd, spring onions, ginger, salt and chili. Put a chicken of 1 kilogram, ham, ginger and salt together in the pot to stew for 20 minutes. Then add some chunks of bean curd to stew more than 15 minutes.

Naxi Hot Pot (Na Xi Huo Guo)
Naxi Hot Pot means this dish is cooked in the copper hotpot. Naxi Hot Pot is the best choice for Naxi people in the winter. There are over 10 kinds of ingredients, such as pork ribs, lean meat, potatoes, soybean sprouts, arrowheads, carrots, taros, cabbages, bean curd, etc. Besides, ginger is also necessary.

Sandieshui Banquet
As a formal banquet for Naxi people, Sandieshui Banquet is thrown to entertain distinguished guests with about 39 courses of various local snacks and specialties. At present, one dish of this banquet becomes popular and loved by many tourists—Preserved Ribs Hot Pot. The main ingredients are preserved ribs, potatoes, soybean sprouts, white gourd and tomatoes.

Famous Local Snacks
Chick-pea Jelly (Ji Dou Liang Fen)
As a traditional snack in Lijiang, Chick-pea Jelly is welcomed by locals and visitors for its fresh taste, toughness and low-price. The main ingredients are chick-pea, leeks, mung bean sprout, zanthoxylum oil, pepper, flour, vinegar, soya sauce, garlic and salt. In winter, it can be fried or stir-fried with leeks or pickled vegetables.

Lijiang Stuffed Bun (Ba Ba)
Lijiang Stuffed bun is a kind of fried potato cake stuffed with sesame or walnut kernel. It has salt and sweet flavor for visitors to choose. Moreover, it is a good present to buy because it can be preserved for a long time. You can find many shops selling delicious Baba in the ancient town.

Other local snacks are soybean noodles, Dongba Roast Fish, yogurt, Naxi Rice Cake and Naxi Roast Meat.

Recommended Restaurants

Most of the restaurants are in the Old Town. You can not only find authentic local food restaurants, but also many western-style restaurants here.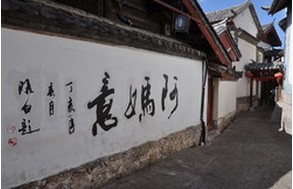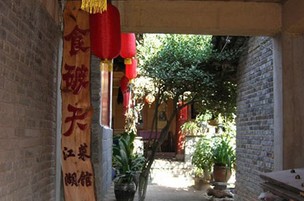 Amayi Naxi Food Restaurant (A Ma Yi Na Xi Mei Shi)
Location: Small Stone Bridge, Wuyi Street, Old Town
Tel: 0888-5309588

Shipotian Jianghu Restaurant (Shi Po Tian Jiang Hu Cai Guan)
Location: No.6, Wuyi Street, Old Town
Tel: 0888-5122891

Yak Beef Hot Pot Restaurant (Mao Niu Rou Huo Guo Dian)
Location: west section of Shangshui Road, Old Town
Tel: 0888-5128803

Family Ping's Home Cooking Restaurant (Xiao Ping Jia Jia Xiang Cai Guan)
Location: middle section of Qixing Street, Old Town
Tel: 0888-5170740

Lijiang 168 Preserved Ribs (Li Jiang 168 La Pai Gu)
Location: in the Xiangshan Market, Old Town
Tel: 0888-5103113

Big Stone Bridge Snack
Location: No.5, Suqare Street, Old Town

Ha's Beef Restaurant
Location: Xueshanzhong Road, Old Town

Mamafu's Restaurant
Location: Xinyi Street, Old Town