Tiger Leaping Gorge
Hailed as the Oriental Grand Canyon, the Tiger Leaping Gorge (Hutiaoxia) is, to some extent, more attractive than the Grand Canyon. It is the most precipitous gorge in the vast China with an altitude difference of 3000 meters that is 600 meters more than that of the Grand Canyon. Therefore, the waterfalls here are amazingly marvelous, the stones here are surprisingly bizarre and landscapes on the cliffs here are spectacularly wonderful, all of which make Tiger Leaping Gorge a good place for adventure, photography and expedition.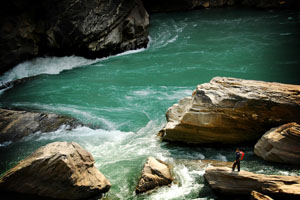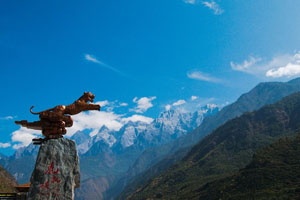 Tiger Leaping Gorge with a splendid view of the swift turbulent current of the Golden River is formed through constant cutting by the waters between Jade Dragon Mountain and Haba Mountain. Spanning 17 kilometers long, the gorge, consists of the Upper Gorge, the Middle Gorge and the Lower Gorge, drops about 300 meters in a series of 18 rapids. The Lower Gorge is the most awe - inspiring part of all. The gorge, where the Golden Sand River pounds furiously at its rocky shores in an awesome fashion, sending up skilful of white froth, is a dream place for adventurers.

Seen from the bridge, the marvelous geological wonder, two huge mountains leaning close to each other and a large volume of fast moving water between them cutting deeper and deeper into the bottom of the gorge, will be more splendid. In addition, there is a drop of 3000 meters to the water, a beautiful and surprising place to go for photography.

Embraced by the arms of the picturesque Cangshan Mountain and guarded by an 8-meter-tall and 3.5-kilometer-long wall, the 600-year-old city of Dali was first built in 1683 and is characterized by the ancient stonewalls, grey tiled roofs, doors and windows carved with dragon and phoenix partners and gardens of varying sizes. The entire city is covered by a maze of streams, fed by runoffs from the Cangshan Mountain. Hence, the saying the gurgling of water can be heard in every house and flowers are planted in every family.

Opening Hours: 9:00 -- 18:00

Ticket Price: 50 CNY

Location: Naxi County, Lijiang City

Transportation: Bus from Lijiang Bus Station and taxi will bring you here.