The Great Trek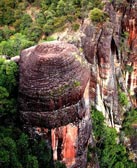 Simply dipping into Tiger Leaping Gorge as part of a tour group rarely allows visitors to appreciate the breathtaking beauty along the road. As such, many people set out on their own treks through the gorge, in search of breathtaking views and inspirational sights.

Although the new road through the gorge was unsuccessful (it has largely destroyed the natural harmony of the region), many people still try to trek through the whole gorge. Please note, however, that the great trek is for brave, adventurous and well-prepared people only.

Most trekkers begin their trip at Lijiang and take buses heading towards Zhongdian, getting off at Tiger Leaping Town that is 90 km away from Lijiang. It is a good idea to spend a night in the town and rise early for the trek ahead.

From the town, cross the bridge at Qiaotouto to the other side of the Jingsha River (Yangtze), a track leads up the mountain path to the summit. The route continues up the Haba Snow Mountain, with the great river below and the Yulong Snow Mountain opposite.

It should take about two hours to reach Luoyu (2400 m) where the route becomes steeper, and another three hours should find you at the half way. Bendi Wan village is a good spot for a brief rest. From here, continue down the route, passing a huge waterfall. By nightfall, you should have reached a village called Walnut Garden, a good spot to stay the night and prepare for the next day's challenge ahead of you. Although along the route there are too much stunningly beautiful scenes to see on both sides of the river, it is really dangerous to linger on the trekking route and fail to reach the Walnut Garden before it gets dark, since the route is too narrow and there are no lights available.(You can rent electric torches in the town).

After a good night's sleep, continue the trek to the most danerous part of the trek: the Slippery Talcum Plate where the route is slippery, the slightest carelessness can be treacherous (on average 3 people a year are killed in the gorge due to carelessness and poor preparation). At the end of the slippery road, a ferry awaits, marking the final victory of the trek. After crossing to the other side of the river (10 CNY), a few kilometers walk will lead to a small town called Daju. The last bus from Daju to Lijiaing leaves at 13:30. If you don't make it, be calm! There are a few guesthouses in the town itself to hole up for the night in.