Lugu Lake
Lying in the flourishing forests far away from the pollution, Lugu Lake, covers 50 square kilometers with thousands square kilometers of lawns, is like a pearl inlayed in the plateau. With seven islands on the lake, the largest freshwater lake in Sichuan, seen from a bird's eye of view, looks like a flying eagle with wings spreading.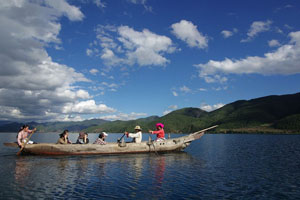 The picturesque landscapes around the peaceful lake are of various features. In the northwest side stands a majestic mountain with spectacular sceneries, which is treated as a goddess by the local minorities. In the southeast, a vast area of grasses with flowers blooming on is the paradise of the birds of rare pieces. Inside the flourishing forests around the lake, leopard, deer, lesser panda, goral and other kinds of precious animals are having a harmonious life with the people here.
On the shore of the Lugu Lake live the Musuo people, a branch of the ethnic Naxi group who is the unique tribe that retains the traditions and practice of a matriarchal society. In the distinctive practices of the Musuo people, walking marriage (Zouhun) is the most amazing one. To experience the special local customs, by day, you can join in the work in the farm with the hardworking and hospitable folk, while when the night falls, you can follow them out on the boats to fish and sing under the shinning of the dim fishing light.
Opening Hours
: the whole day
Ticket Price:
78 CNY
39 CNY for the soldiers, the disabled and the people between 60 and 70 years
Free for the kids below 1.3 m, the retired and the people more than 70-year-old
Location
: Ninglang County, Yunnan Province (175 miles away from Lijiang City)
Transportation
: Long-distance bus from Kunming and Lijiang will bring you here.