Yufeng Monastery (Yufeng Si )
Built at the foot of the Yufeng Mountain in Qing Dynasty (1644-1912), the Yufeng Monastery has experienced more than 400 years of history. What may amaze you most is the huge old camellia that planted in Ming Dynasty (1364-1644), 100 years earlier than the construction of the monastery. This camellia is praised as the King of the Camellia for the marvelous size of it.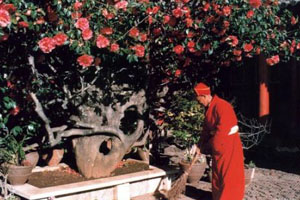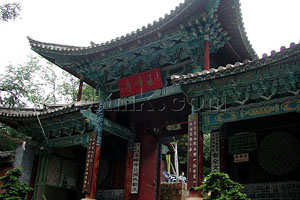 From the beginning of the spring to the beginning of summer, the camellia will be fully blooming for 20 times without breaking off just like a peacock showing off her tail, and the amount of the flowers blooming at each time is more than 1000, therefore there are surprisingly 20,000 flowers blooming every year. This magic camellia is said to be improved through grafting, so the flowers blooming on this 2-meter-tall camellia are as large as a plate.

On the arrival of the spring, people will come all the way from near and far to have a close look at this huge camellia blooming under the reflecting of the gorgeous Yulong Mountain with the snow as the coat.

Opening Hours: 8:00 -- 18:00

Ticket Price: 20 CNY

Location: Yulong Mt., Lijiang City

Transportation: Taxi from Lijiang will bring you here.