Langde Shang Miao Village
Langde Shang Village is said to be 700 years old with more than 30 generations have ever lived here. Circled by green mountains, Langde Shang Village has been enjoying a peaceful life. With a crystal stream flowing through, she has attracted an increasing number of tourists.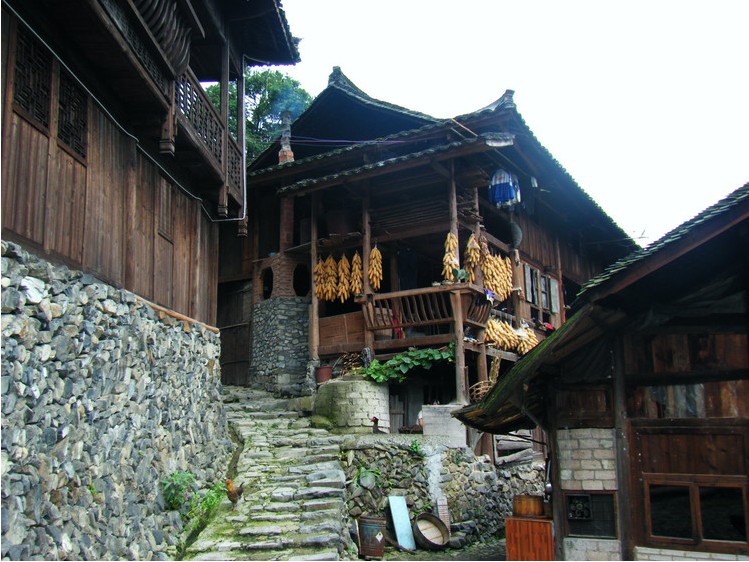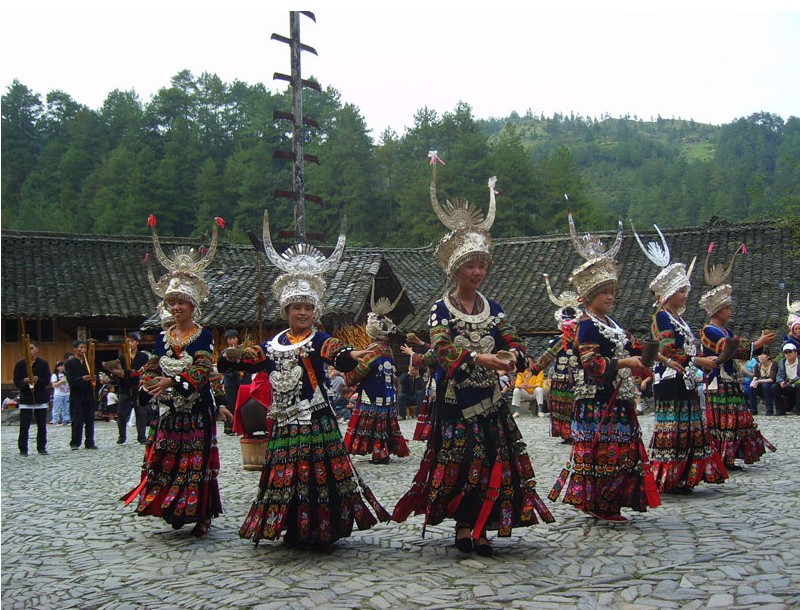 Several stone-made grain mills and mill wheels make the stream more amazing and attractive. The cobblestone pathways crossing the entire village make it cleaner and cozier. The stilt-style wooden buildings (Diaojiao Lou) align in rows as combs make the village more splendid and gorgeous. The traditional festivals and special customs make the village full of harmony and love.

The Wind-rain Bridges, one of the most spectacular scenes here, has experienced more than 100 years' changes, under which on the water ducks are playing with the boats harmoniously, making a lovely picture. Here is also a wonderful place for the young people to date or hang out together.

Besides, a drum ground and a Lusheng (the reed-pipe wind instrument used by Miao, Yao and Dong nationalities in southwestern China) ground, are built in the pattern of ancient bronze drum surface. Twelve short tracks, paved with blue-brown cobbles, stretch to twelve directions, symbolizing the twelve rays of lights. A cobble pattern of galloping horse is inlayed at the end of the drum ground and the Lusheng ground.

The people here have a special way to welcome their guests. The welcoming ceremony continues when the villagers set off firecrackers, play Mangtong (a kind of local musical instrument), and sing song of toasting the guests. The villagers will dress up and lead the guests to the Lusheng ground where young villagers will have the traditional dances, Lusheng dance, wooden stool dance, wood drum dance, bronze drum dance, and so on. Finally, all the villagers will make circles and dance. They will also invite the guests to join them. After the dancing ceremony, guests can go to the villagers' home to observe the creaking spinning wheels and the weaving machine and enjoy the quiet village life.

Location: 29 km away from Kaili City

Transportation: Long-distance bus from Kaili will bring you here, or you can take the taxi (100 CNY for round-trip) to here.