Rize Valley Tour Route
The distribution of the scenic spots in Jiuzhaigou is like the letter "Y", in which the right branch is the Rize Valley while the left is the Zachawa Vallay and the beneath is the Shuzheng Valley.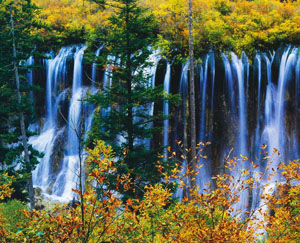 Along the 18 km long Rize Valley, wonderful and exciting scenic spots crowd together, waiting for your expedition, in which peaceful lakes, silver waterfalls and wild forests are the essence. In the place as high as 2900 meters, the 300 wide Nuorilang Waterfall with a fall of 20 meters is the most splendid waterfall and the most charming landscape in Jiuzhaigou. Especially in autumn, the flying waterfall shinning in the sun looks like a pure white scarf dancing in the wind, in the end of which water pearls drop down and splash out refreshing the air around.
If Shuzheng Valley is a wonderland with pretty and graceful sceneries, then the Rize Valley is a fairy tale with peaceful and wild landscapes, where is full of the serenity and purity of the nature. The steep cliff, the clean lake beach, the towering trees and the picturesque mountains even the falling leaves are so attractive and charming that you may be the one who is reluctant to leave.
Why not come here to the "primitive society" to experience the wild China?
Opening Hours:
7:00 -- 19:00 (from April 1 to November 15)
8:00 -- 17:30 (from November 16 to March 31)
Ticket Price:
From April 1 to November 15: 310 CNY
260 CNY for the students, soldiers, disabled and the aged (including the ticket fare for tour bus)
From November 16 to March 31: 160 CNY
150 CNY for the students, soldiers, disabled and the aged (including the ticket fare for tour bus)
Location
: Jiuzhaigou County, Sichuan Province
Transportation:
1. From Mianyang bus is available at 6:40 every morning
2. From Ximen Station long-distance bus is available at 7:30 every morning.
3. From Leshan bus is available at 8:30 in the morning on Tuesday and Thursday.
4. From Chengdu Tour Bus starts out from New Nanmen Station can be available at 8 every morning
Note: if you start from the airport, it is better to take the bus than the taxi.