In ancient China, kites were called "paper kites". Originally regarded as a technique, it also occupies an important place in many art collections and is considered to have unique artistic value.
It first appeared during the spring and autumn period and the warring states period (770 bc-476 BC). According to historical records, the famous thinker Mozi spent three years making a wooden kite, but failed to fly it for one day. One book mentions that Lu Ban, a master carpenter, also made some lofty objects to spy on the enemy.
This technique was further developed during the historically famous Chu Han war of 203-202 BC. Zhang Liang, a general in the Han army, ordered his soldiers to fly kites in the thick fog around the Chu army led by Xiang Yu. Children sit on big kites and play the tunes of Chu (now Hubei) on flutes. Hearing this song, the soldiers of the state of Chu began to miss their hometown and fled in all directions without taking part in the battle. Xiang Yu, who had been so powerful and famous for some time, cut his throat. Another use of this period is to send emergency messages.During the prosperous tang dynasty (618-907), when entertainment flourished with the development of culture and economy, Chinese kites became the favorites of the court and the people of the country. During the Qingming festival, people should not only worship their ancestors, but also go to the countryside for a walk to enjoy the rural life. Making and flying a variety of kites reflects the pleasant mood of spring. Flying kites is now considered good for health.
This delicate process can be divided into three parts. First, the bamboo is thinned and bent into thin strips for the frame to take advantage of its toughness. They can be dragonflies, swallows, centipedes or butterflies, depending on their taste. Next, stick paper on the frame. Demand paper tough, thin, uniform fiber, long. Some are of high quality and even covered with thin silk. Finally, decorate them with colorful chiffon, ribbons and paintings.
Although the basic procedure is the same, kites are made differently in different areas. These "kite capitals of the world" in Weifang, Shandong province, are known for their exquisite craftsmanship, materials, paintings, sculptures and flexible flight movements. One of the kites, more than 300 meters (984 feet) long and shaped like a dragon head centipede, won first place at the international kite-flying festival in Italy. Now it is collected in Weifang kite museum. The festival is held there every year and is expected to attract many fans who like to fly kites.
Goldfish – shaped kites and swallow – shaped kites are very popular in Beijing. Artisans make them in many different ways. Some also scatter auspicious patterns such as peonies and bats to bring good luck to their hosts. These Nantong – made planes usually come with whistles and rings. When they fly in the sky, they are vivid like a flock of birds. There are all kinds of kites in Tianjin. There are many different unique and novel shapes, one large can be measured for hundreds of meters, while the smallest can be placed in an envelope. With the soft wings of insects, goldfish, clouds and even swallows, these kites are associated with dozens of small swallows, each a sign of the craftsman's skill.
If you are interested in flying kites, you should choose a sunny and windy day so that you can enjoy the outdoor air and pay attention to avoiding power lines and cars. You can bring an extra one and let them fly depending on the wind direction. The string on the kite wheel must be strong and durable. If your kite breaks, be sure to pick up all the strings so you don't hurt anyone. Of course, a pair of sunglasses might be useful in protecting your eyes from bright sunlight.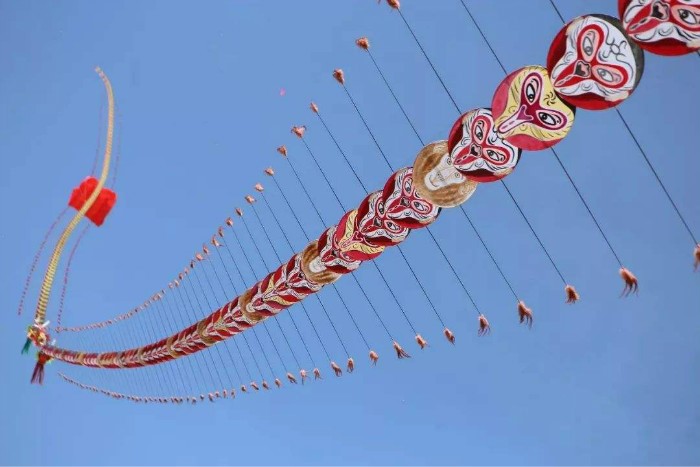 Facebook Comments