Barkhor Street
Barkhor Street is a shopping street around the Jokhang Monastery in old town of Lhasa. It's said that in 647, the first Tibetan King Songtsen Gampo (617 - 650) built the Jokhang Temple. Due to its magnificence, it quickly attracted thousands of Buddhists pilgrims. As a result, a trodden path appeared. That is the origin of Barkhor Street. Today, there are still many pilgrims holding the prayer wheels to walk clockwise from dawn to dark. You can see some pilgrims walking or progressing body-lengths along the street. Even some of them are teenagers or have walked thousands of miles to reach this sacred place. The way they express their piety could make you understand the holiness of the religion.
Barkhor Street is the most famous circumambulation and business center. The original looks and lifestyle are well preserved in the street. The original street is just a single way around Jokhang Monastery, and expanded gradually to other parts of the old town. Now there are 35 streets and lanes in total with circumference being 1,000 meters. 

.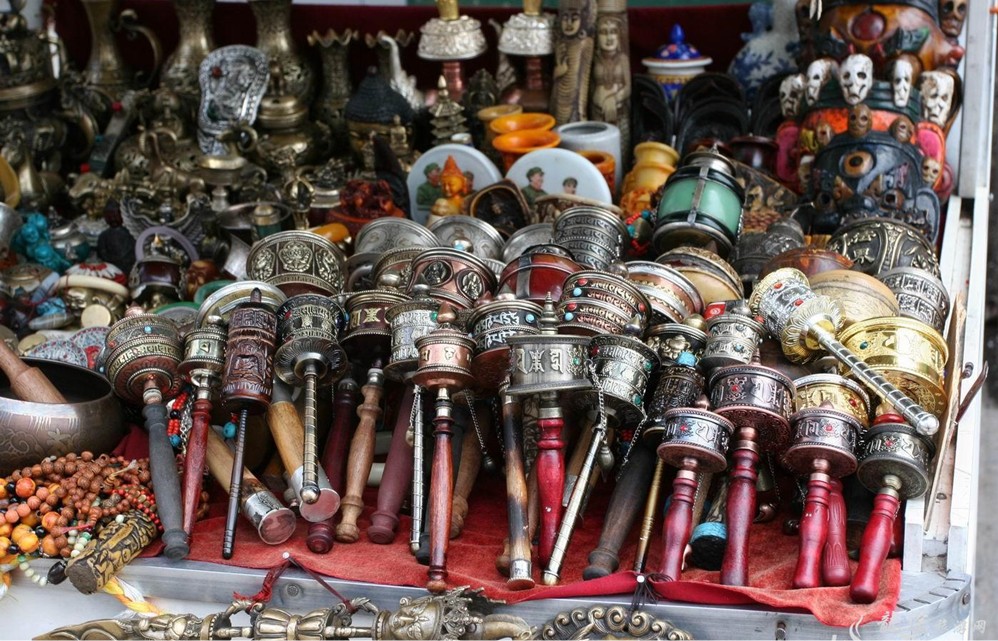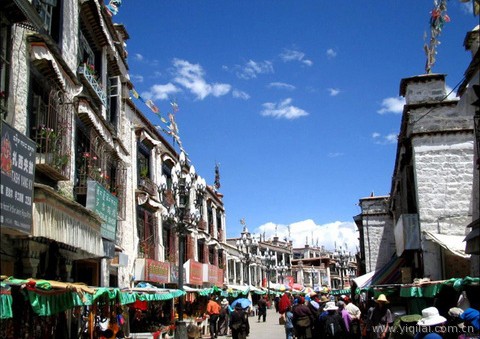 The street is paved with hand-polished stones. Along the street are traditional Tibetan architecture.There is a huge incense burner in the center of the street, in which incenses are burned continuously. The street is lined with shops and stores selling a variety of handicrafts and souvenirs. Some are religious items such as prayer wheel, Bronze Buddha statues, prayer flags, butter lamp, sutras and prayer beads; some are daily necessities like Tibetan costumes, ornaments and food, others are handicrafts like Tongka, handkerchiefs and local specialties. What is more, you can find exotic items from India, Nepal and Myanmar as well. Do not haste to buy, you should walk around, compare and have a bargain.
Barkhor Street is also the home for cultural relics and historic interests. There are 29 well-preserved key cultural relicts and 56 ancient buildings, including Gyume, Sutra Printing House, destroyed Shide Tratsang Temple and mosques etc.
As a symbol of Lhasa, this street is also a must-see place for the tourists. It is the place filled with religious atmosphere and a world of exotic articles. It is a must-see in Tibet. Believe your eyes, and you will get a lot of surprise there.
Location: Chegnguan District, Lhasa
Entrance fee: free
Transportation: Take NO.89 bus, get off at Jiangsu Stop and walk about 800 meters to get to Barkhor Street. Take No.108 bus, get off at Women and Children's' Hospital and walk about 400 meters to get to Barkhor Street.
Bus fare: RMB 1.
Taxi: RMB 10