Entertainment in Tibet
Popular Activities
For some tourists, traveling is not just for appreciating the landscapes but also the local entertainments. Entertainments in Tibet fall into the traditional and modern entertainment. The traditional one includes the folk songs and dances, local drama and festival ceremony, while the modern one is much like those in other Chinese main cities, Shanghai and Guangzhou etc, that is going to the bars, nightclubs etc.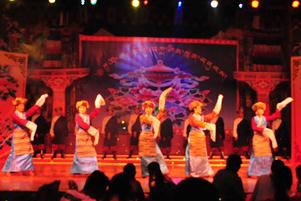 Nightlife
Though located in the plateau, there is no lack of entertainments, traditional or modern, in which tourists can experience the distinctive culture and customs. Cinema, KTV, bar, nightclub, bowling room and teahouse are within easy reach. In addition, the local Tibetan ballroom, Tibetan bar and hot spring are available as well.
Barkhor Café
(Offers Chinese cuisines, Western cuisines, Nepalese cuisines, Indian cuisines and Italian cuisines as well as cybercafé, IC telephones and art gallery)
Address: south side of the Jokhang Temple Square
Tel: 0891-6326892
Yindu Nightclub
(Disco club and local singing and dancing show can be gotten until 2:00 in the midnight)
Address: Middle Beijing Rd. (next to the Tibet Mansion)
Niwei Entertainment Center
(Shopping center, nightclub, teahouse, café and restaurant are available)
Address: North Linkor Rd., Lhasa
Tel: 6325806
Baozhiyu Bowling Club
(Twelve Alley beds are in service and teahouses are available)
Address: Junction of Beijing Rd. and Minzu Rd.
Tel: 0891-6829672
Strelitzia Club (Tiantang Niao Club)
(Offers bar and KTV service and Tibetan singing and dancing, business hours: 20:00-24:00)
Address: No. 148, Middle Beijing Road
Tel: 0891-6829290
Other Entertainments and Activities
Tibetans are talented in singing and dancing, through which they show the hospitality and candidness. Therefore, the local people always assume themselves by practicing the folk singing and dancing.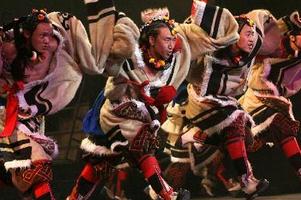 Reba Dance
Reba Dance is an impressive Tibetan local art that involves performance of Rap, singing, dancing, acrobatics and Reba Drama. There are 12 scenes in the whole performance, which will take 5 hours. It is a gala performance requiring sophisticated skills. Reba begins with the light and spry dance and enters into the climax with the ebullient dance, which embodies the straightforward and passionate nature of the Tibetan.
Tibetan Drama
Tibetan Drama dates back to the 8th century as a religious art. To the 17th century, it became a folk art that performed by singing, chanting, dancing and acrobatics. Unlike the Peking Opera, the Tibetan Drama is simple in musical instruments and facial make-up. Generally, the actors perform only accompany with one drum and one cymbals, and they wear masks instead of making up.
The implication of the color of the masks
Red: the king
Green: the queen
White: the good people
Yellow: the living Buddha
Half white and half black: witch
Green face and ferocious fangs: evils
Shopping at Night
Youth Road Night Market

The illuminated night market on Youth Road is lined with stalls selling snacks, hot pot, fruits and handicrafts. This distinctive street is very busy, while goods are cheaper than those in Barkor Street.
Tianhai Night Market
The night market in Tianhai is bigger than that on the Youth Road. It provides more kinds of snacks and food and is opened until next morning.