Tibet Transportation
By Air
There are three airports in Tibeta, namely Lahsa Airport, Qamdo Bangda Airport and Linzhi Airport. Due to the poor climatic and geographic environment in plateau, there are not so many airlines form the Tibetan airports to other cities.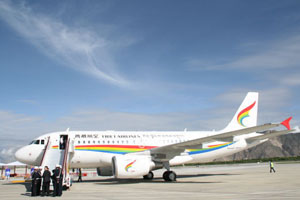 If you want to get in Tibet at Lahsa Gonggar Airport (LAX), you can start from
Beijing
,
Xi'an
,
Shanghai
,
Guangzhou
,
Hong Kong
,
Chengdu
,
Kunming
,
Chongqing
and Sining in China and Kathmandu City of Nepal. While get in Tibet at Qamdo Bangda Airport (BPX) and Linzhi Airport (LZY), you can only start from Chengdu, Sichuan.
Get to the airport
To Lahsa Gonggar Airport
It takes more or less 50 minutes and 20 CNY by the airport buses, and 40 CNY by taxi from the urban to Lahsa Gonggar Airport.
To Qamdo Bangda Airport
The Qamdo Bangda Airport is 136 km away from the city center, which costs 3 hours by airport buses.
To Linzhi Airport
The Linzhi Airport is 50 km away from the city center, which costs 1 hour by airport buses.
By Train
There are only two railways to Tibet, Qinghai-Tibet railway and Sichuan-Tibet railway.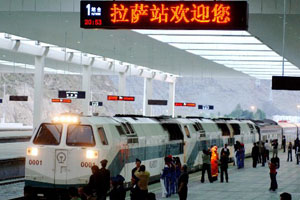 The Qinghai-Tibet railway starts from Sining Qinghai to Lahsa Tibet, covering 1956 km (1100 miles). It takes 16 hours to finish the whole journey by train. Along the railway, there are many enchanting landscapes such as the Qinghai Lake, Hoh Xil Mountain, Namtso Lake and Tanggula Mountains.
The Sichuan-Tibet railway starts in Chengdu and ends in Lahsa. It is 1629 km (1000 mile) in total. It takes less than 9 hours to finish the whole journey by train. Along the railway, there are many fascinating sceneries such as the plateau, snowy mountains, virgin forests, glacier and rivers.
By Road
In the past few years, the roads communicating Tibet and other cities facilitate the Tibetan traffic communication. As a result, Lahsa, the capital of Tibet, becomes a transportation hub to where there are many accomplished highways connect, such as the Sichuan-Tibet Highway, Yunnan-Tibet Highway and Xinjiang-Tibet Highway.
Sichuan-Tibet Highway
The highway from Sichuan to Tibet has two branches--the south and the north. They both start from Chengdu to Lahsa. The south branch covers 2159 km (1350 miles) and there are several shuttle buses to and for every week, while the north 2412 km (1500 miles) and there are only two shuttle buses to and forwards weekly.
Yunnan-Tibet Highway
The Yunnan-Tibet highway starts from Jinghong, Yunnan and meets the Sichuan-Tibet Highway at Duopuma Tibet. It covers 2,317 km (150 miles). There is no shuttle bus from Yunnan to Tibet directly.
Xinjiang-Tibet Highway
The Xinjiang-Tibet highway starts from Yecheng County, Xinjiang to Lahsa, Tibet, covering 2743 km (170 miles). There no shuttle bus from Xinjiang to Tibet directly. From the beginning to the end, it will take you more or less 10 days.
Getting Around
Bus
There are shuttle buses to and for in the city, and the ticket fare is 2 CNY.
Taxi
The flag down fee is 5 CNY. It takes you no more than 10 CNY by taxi to go around into a certain city.
Raft
Traveling along the picturesque rivers, raft is necessary. Each leather raft can hold more than 5 persons.
Bicycle
Bicycle renting service is available in many hotels and the charge is 20 CNY per day.
Tibetan Horse, Hinny and Goat
The vehicle for carrying the luggage are the native animals--the Tibetan horse, hinny and goat.