Jokhang Monastery
Built in the year 647 (Tang Dynasty), Jokhang Monastery, covering 25,000 m2, is the center of Lassa in every aspects. It is said to that Lhasa radiated outwards from Jokhang Monastery. Therefore, it is safe to say that the Barkhor Street, a shopping center in Tibet, is the rudiment of the Lhasa city. For a long period, it was the seat of the Tibetan government, where tens of thousands of lamas from various parts of Tibet gather in the Temple to worship Buddha and recite sutra in the first month of Tibetan calendar.

After years of expansion, the Jokhang Temple is now part of a large group of buildings, covering a total area of 25,000 square meters. The four-storey main hall is magnificent with a Golden Summit. Mounting the cupola, the magnificent Potala Palace in the ancient city comes into clear focus. The main hall consecrates a gold statue of Sakyamuni brought to Tibet in the Tang Dynasty and statues of King Songtsang Kampo (517 - 650), Princess Wen Cheng and Princess Chizun. Murals in the temple include one entitled "Princess Wen Cheng Entering Tibet" and lines of woodcuts of beasts and sphinx featuring local arts of the Western Region. The temple is fronted with a stele to mark the meetings between the officials of the imperial court of the Tang Dynasty and the Tibetan regional government and other historical relics.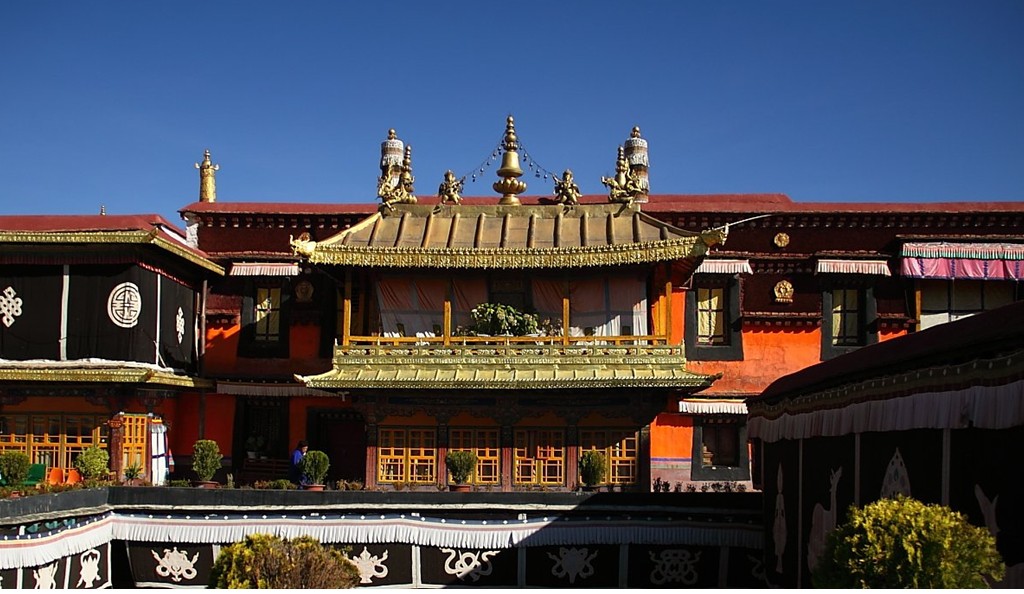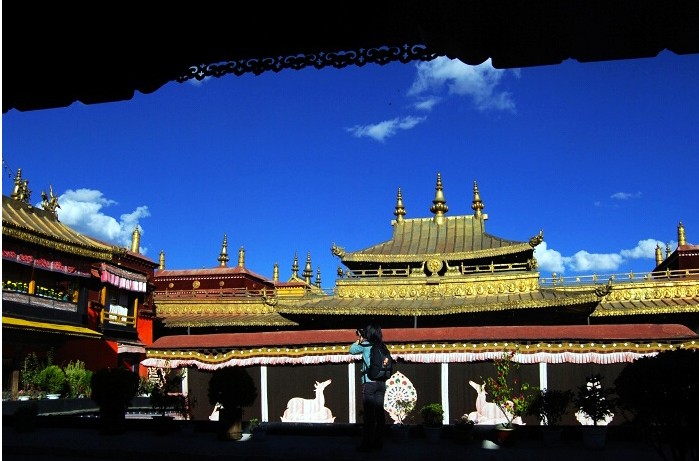 A great amount of precious cultural relics is well preserved here. In the Grand Hall, enshrined is a gilded copper statue of Sakyamuni elaborately decorated, which is priceless national treasure. Also kept with great care is a gold Bumpa urn granted as a present by the Emperor Qianlong in 1792. The gold urn is used to keep the lots that will be drawn to decide upon the in carnation boy of Dalai Lama, when there are two or more candidates.

The newly painted murals encompassing 2,600 square meters in the Monastery are a group of glorious historical pictures. They depict vividly the Jataka of Buddhism, the story of acquiring scriptures in the Western Heaven by the ang monk and his disciples as well as Princess Wencheng crossing the snow-capped mountain on horse back.

Opening Hours: 9:00 -- 12:00 break 14:00 -- 17:00

Ticket Price: 70 CNY

Location: Chengguan Zone, Lhasa

Transportation: You (from anywhere in Lhasa) can come here on foot or take the pedicab.