Entertainment in Zhuhai

Popular Activities

Zhuhai Golden Gulf Golf Club is situated in the Jinwan District of Zhuhai in a prominent vantage point of both mountains and the South China Sea. It takes about 1 hour from Hong Kong or Shenzhen by ferry, to reach Jiuzhou port in Zhuhai. From there or the Macao border, one can reach the golf club in 30 minutes by car and it is only 10 minutes from the Zhuhai Airport. The additional network of provincial highways provides easy access to the club in all directions. This project covers a total of 5 square kilometers and is planned to establish a large-scale golf resort comprising of leisure and entertainment facilities that combine business and residence into one harmonious community. The first phase includes 27-holes of golf with 326 villas occupying approximately 2.5 square kilometers. Colon Montgomirie, a famous European PGA player ranked No.1 in Europe for seven consecutive years has designed the courses suitable for hosting world-class events in China. The modified links design consists of an 18-hole, 6532 meters par 72, championship course and a 9-hole course capable of night golf.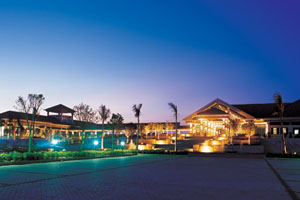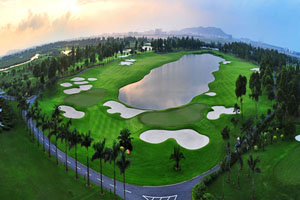 The design also features a "Least Disturbance" concept blending water, sand and wind with the surrounding mountain scenery reflecting the glamour and unique charm of an international golf course born out of the traditional Scottish style of golf.

The Hassell Design Company of Australia is in charge of the overall buildings that include a 5000 square meter clubhouse, 50-room Golfers' Lodge, and 1800 square meter Country Club. In all visitors will find 2 restaurants, a Scottish style pub, fully stocked golf specialty shop, locker facilities in the clubhouse. In the country club guests can treat themselves to the gymnasium, multifunction room, private meeting rooms, swimming pool, health center, coffee and juice café, massage and beauty parlor. The Golfers' Lodge features 48 standard and 2 luxury suites in a Thai style of elegance for guests to relax.