In the Tibetan language, Kumbum Monastery is called 'gongben', which means '10,000 figures of Buddha'. With a history of more than 400 years, it has gradually become a tourist destination with its unique national color and national style. The whole area covers more than 144,000 square meters (about 36 acres) and is surrounded by mountains. It has 9,300 rooms and 52 halls. From these Numbers alone, you can imagine what a wonderful place this is. The pagoda temple is a group of hillside buildings combining han and Tibetan architectural styles. It has one high temple and another high hall. Palace buildings, Buddha halls, bedrooms and courtyards echo each other, enhancing the beauty of the whole area.
Among the numerous buildings, the golden roof hall and the meditation hall are the main parts.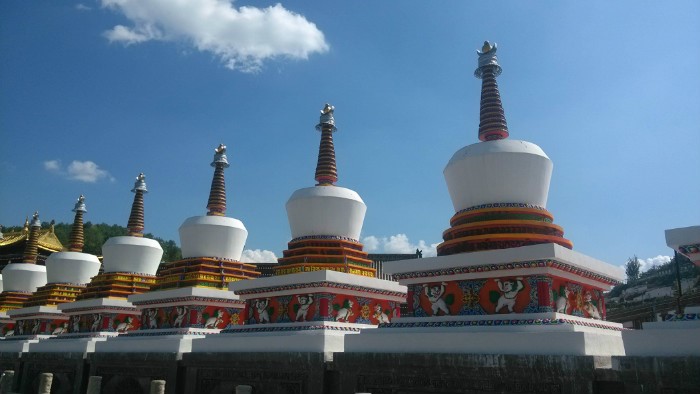 As the central core of the temple, Jinding hall is located in the middle of the temple. Its doors are colorful and of different lengths, carved into a variety of flower patterns and painted in a variety of fresh colors. The walls are covered in green tiles and inlaid with countless pearls, agates and gems, making the whole hall sparkle. In the hall, there is a silver tower built in memory of the Tsong Khapa. The tower is inlaid with a variety of gemstones and wrapped in ten layers of pure white hada (presenting silk fabric to distinguished guests to show purity, honesty and respect), highlighting its majesty. In front of the tower, gold and silver lamps and ancient flaskers are surrounded by more than 5,000 small golden buddhas, enhancing the majesty of the Tsong Khapa statue in the temple. In the ark of the covenant at the back of the hall were treasures of yellow hat pie.
The main hall of meditation is the authority of the religious organization of the temple. It is the largest building in the world, facing the golden hall. The long and short pillars were beautifully carved and covered in colorful felt with embroidery and long, narrow flags for decoration. On all four walls are vivid and unique buddhist stories and pictures of religious life. A solid gold tower stands in the hall containing the ashes of Tsong Khapa.
Facebook Comments