The northern buddhist temple, which covers an area of 28,000 square meters (6.9 acres) and is built against a mountain (also known as tulou mountain), is located on the northern outskirts of xining city, hence its name. It is known for its buddhist and Taoist architectural styles and is known as "a pearl on the silk road south".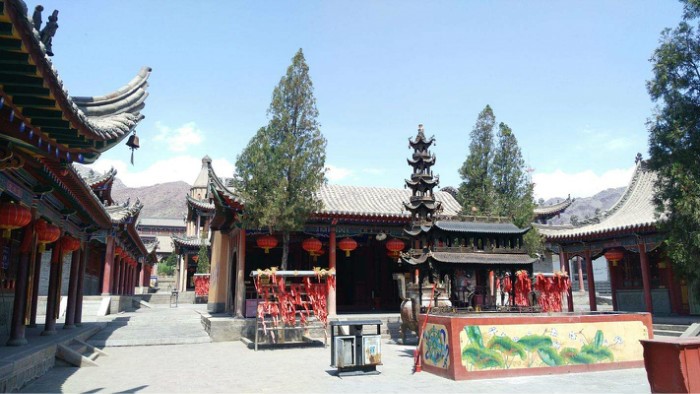 The northern buddhist temple, built in the northern wei dynasty (386-534), is the earliest religious building in qinghai province. It is built according to the natural fault of danxia landform, characterized by alternating hard and soft. If you look up you can see the cliffs, if you look down you can see the cracks. Only the temple hanging in the middle, hence the name. It is the second largest hanging temple in China.
There are 99 caves with four levels, including a single cave and a cluster of caves in a northern buddhist temple, arranged from west to east. Local residents call it "nine holes and eighteen holes." They are connected by a walkway built on the edge of a cliff with a small bridge and a winding corridor. In the cave, we can see murals and sculptures carved on the walls. According to the records, when Buddhism was popular, people were asked to paint jujube Wells (a kind of decoration on the top of caves) and buddhist art murals. These vivid images include historical legends, fables, buddhist rituals and buddhist chieftains. In some caves there are precious Tibetan buddhist murals. Known as "xiping mogao grottoes", the north buddhist temple is a national key cultural relic protection unit.
In the middle of the north mountain there are two huge buddhas, known as "lu tian kong" (outdoor dorje). One has collapsed, but the other is still intact. The other one was more than 30 meters high, and we could see his head, body, legs and facial features clearly from a distance. The statue was carved by many of his followers based on the original form and form, in part reflecting the artistic style of the tang dynasty (618-907).
Facebook Comments