Dragon boat racing is one of the most typical traditions of the Chinese Dragon Boat Festival, which falls on the fifth day of the fifth lunar month. Activities are widely held in the south and northeast of China, where rivers and lakes are densely distributed. The festival has a history of more than 2,000 years, dating back to the boat race held during the warring states period (475-221 BC) to save the ancient Chinese poet qu yuan. Today, it has become a popular water sport around the world, gradually spreading to southeast Asian countries such as Vietnam, Singapore and Malaysia.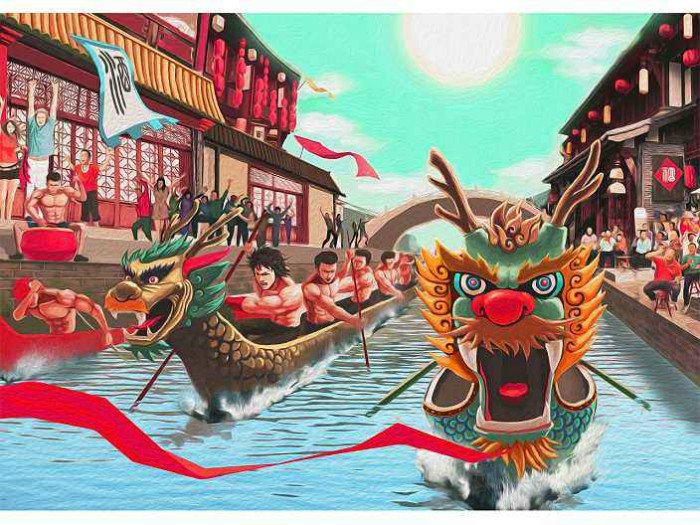 The traditional dragon boat, long and narrow, is a water craft made of teak with paddles on both sides. About 20-30 yards long and 1-2 yards wide, the prow and stern are decorated with dragon heads and tails. The body of the ship is carved or painted with traditional auspicious patterns, such as waves, clouds or animals, in bright colors such as red, blue, green, black and gold. In addition to decorations, there were pennants and drums to guide the rowers. Ships vary in design and size from region to region. Nowadays, dragon-boat racing has become a worldwide water race. The shape, materials and decorations of dragon-boat racing have changed greatly.
In the history of more than 2,000 years, the dragon boat race has gone through three stages: ceremony, commemoration and competition.
The dragon is a fictional animal that has all the advantages of other animals. The ancient Chinese regarded themselves as the descendants of the dragon and regarded the dragon as a totem. Therefore, people build boats in the image of dragons and hold competitions. It is usually used for totem worship or other festive occasions, such as sowing and harvesting seasons.
Around 278 BC, qu yuan, the great patriotic statesman of the state of chu, saw his country destroyed and committed suicide by drowning himself in a river with stones. People raced to row boats to retrieve his body, and performances became a fixture of the Dragon Boat Festival.
Around the 1970s, the competition became a competitive water sport with worldwide fame and was introduced to international sporting events.
Facebook Comments