Mount Jiuhua, located in Qingyang county, Chizhou city, Anhui province, is one of the four famous buddhist mountains in China, along with mount Wutai in Shanxi, mount Putuo in Zhejiang and mount Emei in Sichuan. The shrine is listed as a "national AAAAA tourist attraction" and known as a "Buddhist Heaven for Lotus Flowers".
Traveling to mount Jiuhua, you can not only enjoy the breathtaking natural beauty, but also deeply understand Chinese Buddhism and the profound culture of mount Jiuhua.
Mount Jiuhua was originally called mount jiuzi of liang and Chen dynasties. Legend has it that li bai, a famous poet in the tang dynasty, went to Jiuhua mountain several times, when he saw the shape of 99 peaks blooming like a lotus, and wrote this poem "magic is divided into two branches, the holy mountain generates nine glories". Therefore, jiuzi mountain was renamed Jiuhua mountain, which is still in use today. After Li Bai, numerous scholars, poets and writers came here to leave great works. Even the emperor Kangxi of the Qing dynasty wrote "mount Jiuhua, the holy land". Visitors can enjoy stories from ancient academies and other historical sites.
In 401 of the eastern jin dynasty, a monk from ancient India called Beidu came to mount Jiuhua to build a temple and pass on the Buddha. In 719, king jin Qiaoki, prince of Silla , came to mount Jiuhua and practiced for 75 years. He died at the age of 99, but his body remained intact. Because of his physical resemblance to the bodhisattva, the monks here believe that the bodhisattva was reincarnated in him.
Breathtaking Natural Scenery with 99 peaks. Jiuhua Mountain is reputed as "the First Mountain in Southeast China" with magnificent peaks, murdering streams, bizarre rocks, beautiful waterfalls, seclude caves, etc. Among the 99 peaks, nine famous ones are outstanding, including Tiantai Peak, Tianwang Peak, Shiwang Peak, Lianhua Peak, Duxiu Peak, Luohan Peak, Wulao Peak, Fuhu Peak and Furong Peak. And the main streams include Jiuhua Stream, Qingtong Stream, Laba Stream, Dragon Stream, Jiuzi Stream, Wulong Stream, etc. Travelers can immerse yourselves with intoxication in "Ten Scenes of Mount Jiuhua" and "Ten New Scenes of Mount Jiuhua".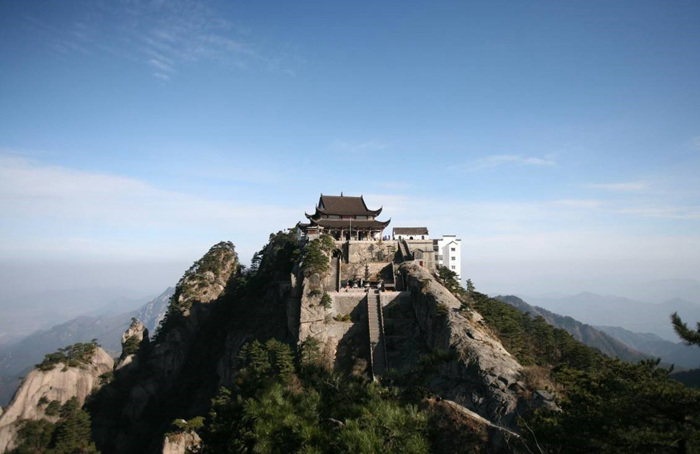 Facebook Comments