Snake wine, a powerful liquor soaked in snakes, has a long history of healing in China. Modern pharmacology has also proved that snake wine has anti-inflammatory, analgesic and sedative effects. It is also said to boost immunity and treat rheumatoid arthritis. Snake wine is considered by some to be the king of traditional Chinese medicine.
Snake wine has the effect of treating rheumatism, osteoporosis, activating blood circulation and removing blood stasis, dispelling cold, and strengthening body. Snake wine contains a variety of elements needed by the human body, is a high tonic for the human body.
Snake wine is also a kind of wine, the right amount of drinking is good for human health. Drinking too much is also harmful. The appropriate amount is 10 to 30 ml per cup. People who are not used to drinking should drink less. It can also be diluted with water.
For women, drinking snake wine during pregnancy and breastfeeding is generally not recommended. The old and weak person's metabolism is slower, should reduce appropriately the dosage of snake wine. The metabolism of youth is stronger, the quantity of snake wine can be more.
Tips
1. Some people may add traditional Chinese medicine. If traditional Chinese medicine is added to the preparation, the amount of wine can be reduced.
2. Snake wine should be distilled or mixed. Wines based on sorghum and other grains are the most popular, giving snake wine a rich and long-lasting aroma.
It is worth noting that it is not recommended to use poisonous snakes to make snake wine. Poisonous snakes such as cobras, bamboo leaves and green snakes are highly venomous, and the snake wine made from them can be harmful or even life-threatening to the drinker.
3. Containers should be glass or porcelain bottles. Plastic bottles are not recommended.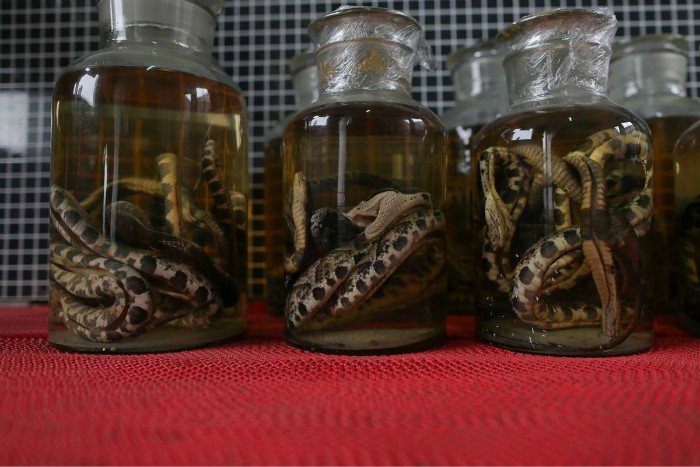 Facebook Comments