Eating in Zhuhai
Cantonese cuisine is common place, but street food stalls and restaurants featuring food from all over China are also easily found. Seafood is a local specialty.
Local Street food
Jinding Barbeque, (On Jinding's main street, can be reached via bus 10 or 3). The BBQ opens around 5:30pm and ends around midnight. By far the largest outdoor street barbeque in Zhuhai. The BBQ is over 100 meters long, , with scores of proprietary stalls and tables (who vigorously compete against one another). Steam rises, motorcycles whiz by, and music blares from shops as dozens of proprietary stands serve up street specialties (such as spicy grilled squid tentacles) well into the night to a lively crowd seated at plastic tables and chairs. Meals are served on plastic bag covered plates and beer from the thinnest plastic cups in the world! Come here to experience regular Chinese street life, and leave full and satisfied.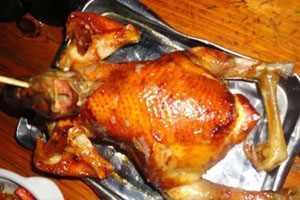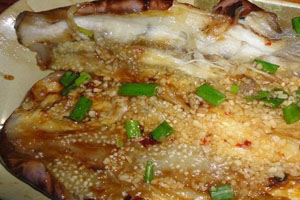 Gongbei Seafood, (If you are standing at the border facing North, follow the street running West parallel to the border around 100 meters past the border area and several of the hotels, and then take any side street North and wind your way into a large outdoor eating area with scores of low key outdoor restaurants). There is a multitude of outdoor eating establishments with high quality seafood in Gongbei near the Macau border. Simply wandering around would probably work, but one large area with many such establishments is just Northwest of the border. Only a 5 minute walk from the border, any type of seafood can be had here (crab, oysters, prawns, large fish and the more exotic variety) as well as other non-seafood dishes that are just as good. They are authentic and much cheaper than anything you can find in the more pricey restaurants. Keep an eye out for the people cleaning large stacks of oysters.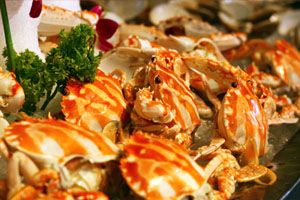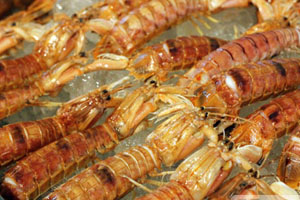 Lotus Road. Other tasty local grub in Gongbei can be found on any of the side streets off of Lianhua Lu (Lotus Road). 
Recommended Restaurants
For a cheap and filling snack, look for the tiny noodle places run by Muslims.
Muslim Restaurant, (next to Wanzaisha Bus Station in Xiangzhou). One good one.
Shishen Seafood City 
Address:Gangwan Avenue,Xiangzhou District (A bit north of town on the coastal road, take bus 3 or 10 or the sightseeing bus)
108 Gaosha Middle Street, Xiangzhou District  (Near the border, a short distance along the road by the clock tower)
Tel: +86 756 3611726,86 756 8132108
 
May Flower Restaurant
Address: 3F, Ridong Square, 49 Qinglü Middle Road, Xiangzhou District
Tel:86 756 3230000.
Offers excellent seafood. As in many places in this area, you pick your fish from tanks. You may also pick your own vegetables and specify the cooking methods. This is not the kind of place to come if you like to pick things off a menu, but if you are willing to select your food while it is still swimming, it is a great choice. There is a large airplane attached to the front of the building. 
Mr Pizza
Address:Jinding (Bus 3 or 10 or the sightseeing bus, alight at the first bus stop after you turn into Jinding, then cross the street).
Imported wine is available here. The restaurant also has a small deli where you can buy cheese and other goodies. The first owner was an Englishman named Ken, but Mr. Pizza is now under new management. Pizza is ¥40-80.
Happy Hour 5:30PM-7PM with beer at half price. 
 
Uncle Mike's Pizza and Chicken
Address:Tangjia (Under the Old Chinese Junk).
Great pizza and chicken is now accompanied by a partner Italian Restaurant and the Down Under Pub. 
 
Amici Miei Authentic Italian Restaurant
Location:Enter Huafa Century City, turning right at the main entrance. Pass Starbucks and Amici Miei in on the right, on the second floor. Access on the waterfront.)
Truly authentic Italian cuisine, owned and operated by Italians, Amici Miei is the latest addition to Zhuhai's pizza scene and by far the best. 
Portofino Italian Restaurant
Address:Shop 105 - 107, Business Mansion of Ren Heng Star Garden, Ren Min Xi Lu, Xiangzhou)
Tel:867562602602
Chinese owner 'Luigi' is a fully-trained Italian chef, using fine ingredients to delight his guests. Located on the second row of shops, behind Pizza Hut (not the one next to Hita Plaza (below), the other one in New Xiangzhou).
Pizza Hut
Location:Jida (Next to Hita Plaza).
Approximately half the cheese used in US Pizza huts.  
 
Papa John's (Jida)
Classic American dining, wide selection of American pizzas and American-Italian style food. 
 
The Factory
Location:Next to 'The Garden' Cafe & Restaurant on the riverside.
Business hours:17:00 - late.
Cheese and garlic, italian meats and rocket and their signature spicy Mexican pizza puts 'The Factory ' as one of the top spots for fresh thin-crust pizza in Zhuhai. 
 
Pizza can also be found in other local restaurants, including a local chain called Pizza Coffee, but the pizza is not very appealing to Western tastes.
Deyuefang Seafood Restaurant
Location:Inside Mingting Park, Yeli Island, Xiangzhou District ,From Gongbei, take bus 9 or the sightseeing bus along Qinglu Road (Lovers' Road) until you see the ship and bridge on your right, just as the bus turns left, get off the bus and walk across the bridge; from Jusco, walk south along the main street to the first corner and turn left, the bridge is one block ahead)
Tel:86 756 2251188.
Large and popular high-end seafood place on an impressive looking boat in Xiangzhou harbour. 
 
The Old Chinese Junk
Location:5-401 Tangrenshangye Street, 3399 Tangqi Road, Tangjiawan District,4th floor of the shopping-center-like-complex, near the Dragon Opera house, the bar is connected to the Longmen Hotel and can reached using their elevator)
Tel:86 756 3319668.
The Old Chinese Junk in Tangjia is a rooftop resturant and pub run by an Englishman named Mike. 
Michael's Bar
Address:Street behind Jusco, Fenghuang Road, Xiangzhou District
Tel:86 13824121280.
Good pub food and popular with expats, particularly when international sporting events are on TV. Formerly Ryan's bar. Still has many expats dropping in at all hours,and the owner, Michael, has a Friday night barbecue out front. 
 
Alain's Belgian Beer Bar
Address: (Alain's Food and beverage Co.,Ltd.), Address:28-7 Huajingxiyuan, 58 Shihua East Road, Jida District  (Next to Jewel of India, opposite Haiwan Huayuan)
Tel: +86 756 3335671
Business hours:11:00AM-3:00PM, 5:30PM-midnight.
Good food, generally large portions and a fine selection of bottled beers. ¥50-100. 
Indian Kitchen
Address:26-28 Shihua East Street, Huajing Garden, Dongyuan, Jida District  (Bus 4, two stops south of the port)
Tel:86 756 3345784
Fairly decent Indian food (Southern Tamil) with sometimes bizarre entertainment including dancing girls and a chef that dances like Michael Jackson used to. Expect at least ¥60 per person. 
Jewel of India
Tel:86 13192221216; +86 756 3321770.
Business hours:11AM-2:30PM, 5PM-11PM.
Serves authentic Northern Indian food and is famous for its Tandoori Chicken. They also deliver food anywhere in Zhuhai. Recently reopened in the super-stylish Huafa Century City with a luxurious environment and even more treats on the menu. Friendly owner Gope is always on-hand to help recommend dishes that compliment each other. Also the outdoor seating makes this a great spot for an afternoon riverside beer. Expect about ¥70 per person.