Hong Kong Transportation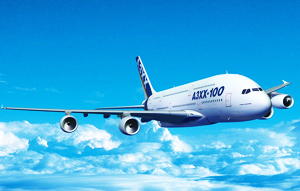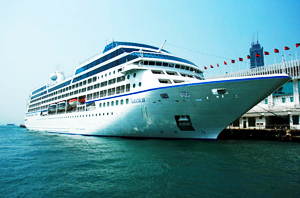 By Air
You can fly to Hong Kong from almost everywhere in the world. The prime location of Hong Kong makes the Hong Kong International Airport (HKIA) a super hub in Asia and the gateway to inland China. It is world-class. Here we have sixty airlines fly to 140 locations around the world. What's more, you can get to 40 inland destinations from HKIA. It also flies shuttles between Taiwan and the mainland. Everyday there are 4 to 6 flights to Hong Kong from major Chinese cities such as Beijing, Shanghai and Guangzhou, which are considered as international flights.
You can enjoy numerous services here in HKIA, getting city information from the Hong Kong Tourist Board and selecting hotel for free owe to the selective reservation service provided by Hong Kong Hotel Association.
Airport Express:
You can take special fast vehicle at the airport to the heart of Hong Kong. It offers service from 05:50 to 01:15 (the express runs every 12 minutes). And it takes 23 minutes each time. Besides, Hong Kong and Kowloon Stations offer free check-in service and buses. Check-in service allows you to check in at Hong Kong Station or Kowloon Station of Airport Express situated in downtown area at least 90 minutes before the departure. Free buses take you to the most famous hotels.
Airport Bus:
It is cheaper for you to take Airport Bus than Airport Express. There are altogether some 6 lines: Line A (open hours 06:00 to 01:00, 15-20 minutes), Line E (05:30 to 24:00, 12-20 minutes), Line N (24-hour service), Lines S, R and DB. Every line runs buses to downtown Hong Kong or to New Territories, the famous Central Wan, Wan Chai, Causeway Bay, etc. on Hong Kong Island; Mong Kok, Tsim Sha Tsui, etc. in Kowloon.
Ferry
You can also take a ferry to downtown Hong Kong, taking Bus No. S56 (the bus runs every 20-30 minutes) at Airport Passenger Terminal to Tung Chung Development Ferry Pier. Ferries (the ferry runs about every 20 to 30 minutes) to Tuen Mun (New Territories).To be convenient, you can buy an Octopus card which is a recharged card and can be used on trains, buses, trams, 7-Elevens, fast food restaurants and even Starbucks. It is available at Ticket offices of the railway from Kowloon to Guangzhou, Hong Kong Metro Customer Center and Airport Express Customer Center.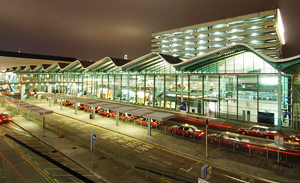 By Train
If you're in mainland China and want to go to Hong Kong, you can take a train from several cities in mainland China and arrive in Hong Kong's Hung Hom Railway station in Kowloon. The Kowloon-Canton Railway East Rail can offer you great convenience. It runs between Hung Hom in Kowloon and the Luohu in Shenzhen, Foshan, Zhaoqing, Dongguan of Guangdong Province and Guangzhou East Railway Station, Shanghai and Beijing West Railway Station and so on, connecting mainland China to Hong Kong. Since the train ticket is relatively cheap, just one-third that of an air ticket, traveling by train is a good alternative for casual budget-conscious travelers.
It will take you 25hours from Kowloon to Beijing and about 26 Hours to Shanghai. The train journey is a great opportunity for wonderful sightseeing. If you want to have a peak train, the right times for you to come here are at Spring Festival and summer holiday. And you book a ticket some days ahead of your arrival, because tickets may be booked up to two months in advance at Beijing West Railway Station and Shanghai Railway Station. It is available for you to book tickets 10-day advance at some sales offices. You can also ask hotel reception for assistance with train travel. Everyday, there are twelve scheduled trains plying each way between Guangzhou East Station and Hong Kong. The journey will take you about 2 hours. Tickets for same-day travel are sold at the railway station and are also available 20 days ahead.
Departure times and prices may be in accordance with change. So please check carefully before you take the train.
By Bus
Bus travel gets its popularity with tourists from mainland China, the Pearl River Delta, Guangdong Province. Coach Service will pick up and drop off you at hotels in major cities for a trip to Hong Kong. You can take buses from Shenzhen, Shenzhen Bao'an International Airport, Dongguan, Guangzhou, Taishan, Xinhui, Zhongshan, Foshan, Huadu, Yangjiang, Chaoyang, and so on. to Hong Kong International Airport:
You can also take bus of the Trans-Island Limousine Service Limited from Shenzhen Bao'an International Airport to Hong Kong. It runs from 09:30 to 22:00. And every 30 minutes a new bus starts. The bus stops at MTR Prince Edward Station and Wan Chai Pier in Hong Kong.
By Sea
Turbo JET:
Here it offers you 24-hour service; both drinks and food are available. You can take the jet at Hong Kong Shun Tak Center or Macau Ferry Terminal. Additionally, you can also have a journey of about 45 minutes to Macau by taking Airport Turbo JET offered by Hong Kong International Airport. Here a simple check will release you directly to Macau as it is unnecessary to process as entering or leaving a country.
Inquiring:
86-853-7907039 (Macau), 86-852-2859 3333 (Hong Kong)
Catamarans:
Hong Kong First Ferry operates catamarans between China Ferry Terminal in Tsim Sha Tsui and Macau Ferry Terminal. It will take you about 70 minutes for one way and such catamarans starts about every 30 minutes.
Inquiring:
86-853-726 301 (Macau) 86-852-2516 9581 (Hong Kong)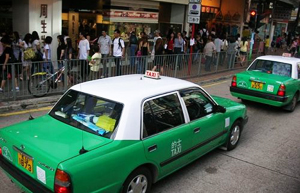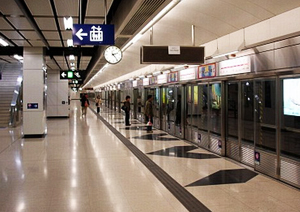 Taxi
It is an ideal choice for you to take a taxi for short-runs. Taxis in Hong Kong are in three different colors: red, blue, green, which also mean different destinations. So it is really helpful for you to know exactly their differences. Red ones can take you to most Hong Kong destinations except Tung Chung Road and roads in south Lantau Island. Green cabs run around in New Territories and on some appointed roads on Lantau Island. Blue taxis serve most destinations on Lantau Island. If your destination is New Territories or Lantau Island, it is more reasonable for you to take a green or blue taxi than red. All the taxis can take you to Hong Kong International Airport, but they may not be available in Discovery Bay.
If you are standing on roads with painted double yellow lines, it will be impossible for you to take a taxi as those are forbidden zones for picking up passengers. During rush hours, you can take taxis front of some hotels. We suggest you to ask for the bill before leaving the taxi as the car number is listed on it. If you left something in the car, you can find it back with the help of the bill. And if you are not satisfied with the service, you can complain through 86-852-28899999.
Tram
Trams in Hong Kong, with one of the world's oldest tram systems, deserve you a ride. From the tram, you can enjoy the busy downtown either at street level or from the upper deck. Nowadays, there are six tram lines: North Point to Whitty Street, Causeway Bay to Sheung Wan, Shau Kei Wan to Sheung Wan, Shau Kei Wan to Happy Valley, Kennedy Town, Kennedy Town to Causeway Bay.
Ferry
It is an exciting thing for you to take a ferry ride between Hong Kong Island and Kowloon. As one of the most popular company in Hong Kong, The Star Ferry Company will take you between Sheung Wan and Tsim Sha Tsui and give you a wonderful chance to appreciate the splendid view of Victoria Bay.
By subway (MTR)
The MTR (Mass Transit Railway) operates between 6:00 am and 1:00 am the next day. It is very convenient for you to get around Hong Kong and visit its attractions.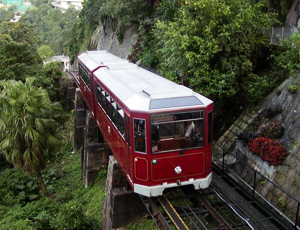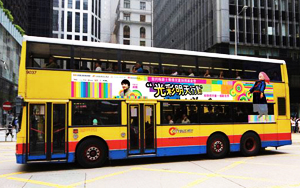 By train (KCR)
The KCR (Kowloon Canton Railway) runs a commuter train from Kowloon, through the New territories and to the boundary with Mainland China.
Public Bus
Buses play an quite important role in Hong Kong. You can see that most buses are double-deckers for there are so many people in Hong Kong. For the passengers' convenience, directions are in both Chinese and English. And An Octopus card can also be used on buses.
Mini Bus
It is easy for you to recognize Mini buses since they are color-coded. But buses in different colors have different routes and ways of operations. Usually, the green ones operate regular routes with fixed fare. You can buy an Octopus card and swipe it when you're on board. However, the red ones operate without fixed charge or routes. Besides, drivers generally do not speak English and will stop only on request. It is quite useful for you to remember these differences.
Peak Tramway
You can take this tramway to Victoria Peak from Garden Road at Central. It runs from 07:00 to 24:00.
Transport Tip:
There is one thing that raises your full attention. The traffic rules in Hong Kong are somewhat the same as those in UK. People here also drive on the left hand side of the road. And when you are crossing the street, you should be very careful for people in Hong Kong tend to drive very fast.
Related Tours