Eating in Hong Kong
Famous Local Food
Gourmet in Hong Kong is a big Sinseong-hoe for everyone and can always make one mouth-watering. It is said that even the most fastidious food connoisseurs will be completely satisfied in Hong Kong. Here in Hong Kong, you can see many luxurious restaurants, friendly teahouses, lively dai pai dong (street-side stands), and snack and dessert houses.

Famous Local Dishes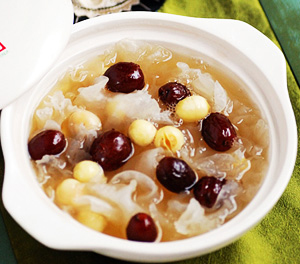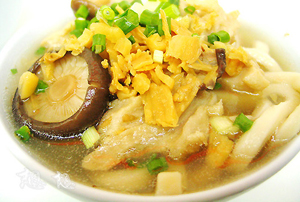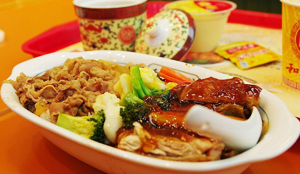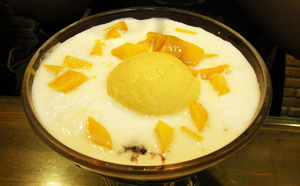 It is an ideal choice for you to have traditional Hong Kong cuisine for dinner. Hong Kong cuisine is profoundly influenced by Cantonese food, which is a unique kind among the eight Chinese cuisines. It lays its emphasis on freshness to preserve the original taste of the food.
As a cultural symbol, Soup is quite important in Hong Kong cuisine. You will be surprised to find in Hong Kong TV soap operas that virtuous wives always show their concern and greet their tired husbands by saying, 'I cooked soup for you'. Having soups is considered to be a way of regimen in China. They are good for both health and beauty. Cooked with specific Chinese herbal medicines, such as ginger, medlar, soups can act as medicines, treating certain illnesses. People in Hong Kong usually cook soup by themselves at home, and they cook it almost everyday. It can be said that soup is indispensable to Hong Kong people
If you're a seafood lover, there is an ideal place for you to go--the Jumbo Kingdom. Jumbo is a Hong Kong icon, which has developed into a theme park on the sea. Here is the address Shum Wan Pier Drive, Wong Chuk Hang, Aberdeen, Hong Kong.
There is one thing that deserves your taste. It is Sweet soups, which can delight your palate. You can taste in restaurants, teahouses and in special dessert houses. In these soups, there are ginger milk pudding, steamed milk in two layers, steamed egg, tortoise jelly, dumpling made of sago, and tofu pudding with fresh fruit.
Famous Local Snacks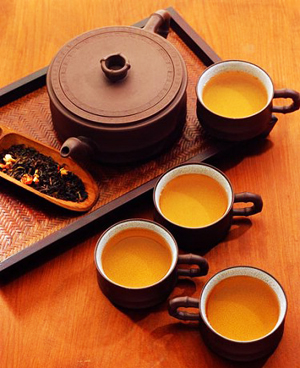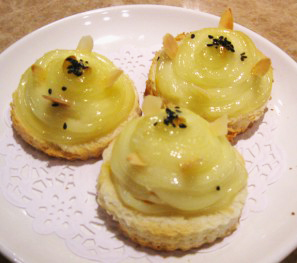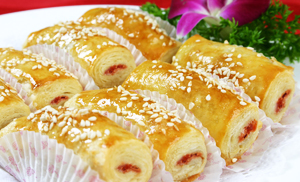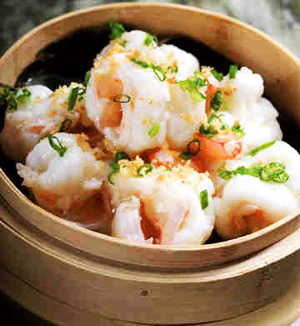 Yum Cha (tea drinking)
Dim Sum
har gau (steamed shrimp dumplings)
cha siu bau (barbecued pork buns),
au yuk (steamed minced beef balls)
fun gwor (steamed rice-flour dumplings filled with pork, shrimp, and bamboo shoots)
tsuen guen (deep-fried spring rolls filled with shredded pork, chicken mushrooms, bamboo shoots, and bean sprouts)
Congee (thick rice porridge)
Recommended Restaurants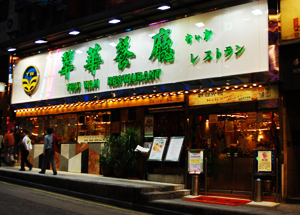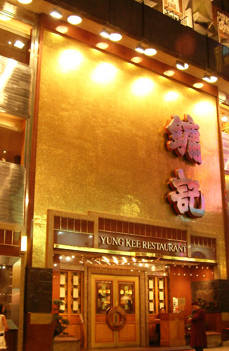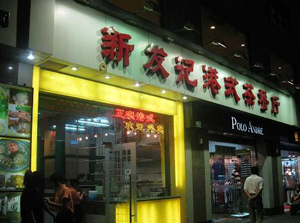 Tai Woo Restaurant
Causeway Bay Branch: 27, Percival Street, Causeway Bay
Shau Kei Wan Branch: 192 - 198, Shau Kei Wan Road, Sai Wan Ho
Central Branch: 92 & 100 Caine Road, Central
Tsim Sha Tsui Branch: 14 - 16, Hillwood Road, Tsim Sha Tsui
Yung Kee Restaurant
Address: 32 - 40, Wellington Street, Central, Hong Kong
Opening hours: 11:00 to 23:30 (daily)
Dim Sum Dining: 14:00 to 17:30 (Mon. to Sat.) 11:00 to 17:30 (Sun. & Public Holiday)
Kam Fung Restaurant
Wan Chai Branch: G/F, 41, Spring Garden Lane, Wan Chai
Mong Kok Branch: G/F, 102, Lai Chi Kok Road, Mong Kok
Tsui Wah Restaurant
Causeway Bay Branch: 493 - 495, Jaffe Road, Causeway Bay
Central Branch: G/F to 2/F, 15 - 19, Wellington Street, Central
Sun Fat Restaurant
Address: 1, Wu Kwong Street, Hung Hom, Kowloon
Rainbow Seafood Restaurant
Address: 1A - 1B, First Street, Sok Kwu Wan, Lamma Island
Tin Yu Seafood Restaurant
Address: G/F, 59, Chi Lok Fa Yuen Commercial Centre, Tuen Mun, New Territories
Kam Lee Loy Restaurant
Address: 29 - 30, Block 9, Lower Ngau Tau Kok Estate
Hui Lau Shan
Address: A33, Sau Fu Street Yuen Long
Chung Kee Dessert
Address: Shop CB58, Smiling Plaza, 162 - 188, Un Chau Street, Cheung Sha Wan, Kowlloon
Ning Po (Shanghai flavor)
Address: Room 401 - 405, Yip Fung Bldg., 12, D'aguilar Street, Central
Wing Lai Yuen Sze Chuen Noodles Restaurant (Sichuan flavor)
Address: G/F, 15 - 17, Fung Tak Road, Fung Wong Sun Chuen, Wong Tai Sin
Hunan Garden Restaurant (Hunan flavor)
Address: 3/F, The Forum, Exchange Square, Central
Peking Restaurant (Beijing flavor)
Address: 1/F, 227, Nathan Road, Yau Ma Tei, Kowloon
Little Sheep (Inner Mongolian flavor)
Address: G/F to 4/F, 16, Argyle Street, Mong Kok
Chuan Ju Restaurant (Yunnan flavor)
Address: G/F, 113, Fa Yuen Street, Mong Kok
Pasha Xianjiang Fushion Restaurant (Xinjiang flavor)
Address: Shop D1, C1 and C2, G/F, Fashion Walk, Cleveland Street, Causeway Bay
Lo Ho Tsing Heung (Fujian flavor)
Address: On Fook Building, 44, Mei King Street, To Kwa Wan
Mi-Ne Sushi (Japanese flavor)
Address: G/F, 12, Pak Sha Road, Causeway Bay
Kim Mi Restaurant (Korean style)
Address: 5/F, Yau Shing Commercial Centre, Sai Yeung Choi Street, Mong Kok
Little Basil (Thailand flavor)
Address: 533, 5/F, Grand Century Place, Mong Kok
The Delhi Club (Indian flavor)
Address: Room 3, 3/F, Block. C, Chung King Mansion, 38 - 44, Nathan Road, Tsim Sha Tsui
W.Y. Indonesia Restaurant (Indonesia flavor)
Address: A, 4, Mut Wah Street, Kwun Tong, Kowloon
W's Entrecote, le steak house francais (French style)
Address: 6/F, 33, Sharp Street East, Causeway Bay
Amaroni's Little Italy (Italian style)
Address: LG 1-32, Festival Walk, 80, Tat Chee Avenue, Kowloon Tong
New Little Flying Elephant Portuguese Restaurant (Portuguese style)
Address: 1, Hillwood Road, Tsim Sha Tsui
Dan Ryan's Chicago Grill (American flavor)
Address: L2-28, Festival Walk, 80, Tat Chee Avenue, Kowloon Tong
Taco Loco (Mexico style)
Address: G/F, 7, Staunton Street, Central
Pret A Manger (British style)
Address: shop L11003B-1005, International Finance Center, Central