Butterfly Spring
Butterfly Spring derived its present name from a romantic legend. A beauty and an honest but poor boy (they were in deep love of each other) jumped together into the spring to escape the persecution of a rich man, and the next day, a couple of butterflies was flying around the spring.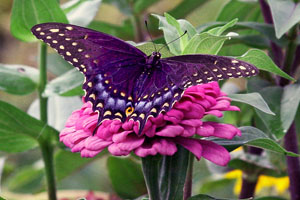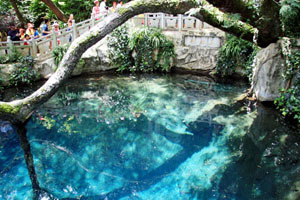 Butterfly Spring seems like a miracle. On the arrival of the lunar April, thousands of butterflies assemble around the spring on time to have a fixed butterfly meeting. Colorful butterflies of various sizes and shapes are flying in the skies over the spring, which seems only can be seen in the movie. Some naughty butterflies fly hand in hand to make a string of butterflies and then hang themselves up on the trees. The clear spring bleeding out from the stone crevices will assemble to form peaceful pools. The pools assembling the fresh and sweet spring are as large as 6,500 m2, which are the outstanding sceneries in the park.

In addition to the butterflies and the springs, the flourishing trees act as the indispensable decorations. Towering old pines, green palms, gorgeous bamboos and other kinds of trees cover the entire park. In the early summer, graceful butterflies fly over the blooming flowers, making people hard to tell apart the flowers from the butterflies.

This spectacular sight has given rise to a local festival ---"Butterfly Meet" on April 15th. On that day, the young Bai dress up and come to the Butterfly Spring to attend it. The young men play instruments and sing for the girls they loved. The romantic spectacle of the butterflies as they feed and mate in such abundance has become a symbol of true love in the heart of the Bai people.

Notes:
Butterflies are not flying around the spring all the year round, but only a few days, so the best time to make a tour in Butterfly Spring is the 15th in lunar April

Opening Hours: 8:30 -- 17:00

Ticket Price: 45 CNY

Location: North side of the Zhou Town, Dali City

Transportation: Shuttle bus from the ancient town in Dali can bring you here (40 minutes / 4 CNY).