Erhai Lake
As the second largest freshwater lake in Yunnan province, Erhai Lake, covering 260 square kilometer and spanning 9 kilometer, is praised as the Mother Lake of the Bai Minority. With an average depth of 10 and the high visibility, the peaceful and clear Erhai Lake looks like a pure jade inlaying among the mountains.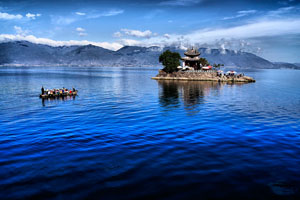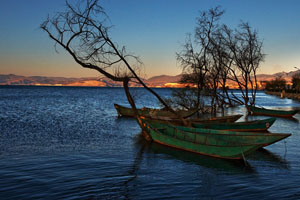 In addition to the peaceful lake, islands, temples and villages around are also worth our visiting. By visiting the Xiaopituo, originally devoted to Bodhisattva Kwan-yin, you can experience and see the typical ancient Chinese Buddhist temple's unique architectural styles of its buildings' pointed eaves and decorations on this peninsular. If you are interested in the Bai culture and lifestyle, Golden Shuttle Island (Jinsuo Dao), and the nearby fishing community of Bai Minority would be nice choice.
The scenes around Erhai Lake are variously charming. In the morning, mist cover a veil of silk on the lake, makes it more peaceful and mysterious. Later on, the sunrise unveils the filmy world and the sunlight makes the water shiningly attractive. In the afternoon, fishers are singing on the bamboo rafts heading to the shore with great harvest. Under the moon, when everything goes to sleep, the lake becomes lively under the teasing of the wind. No wonder, tourists have been here said traveling in Erhai Lake likes traveling in a landscape picture.
Free for the entrance
142 CNY for the cruise tour
Free for the kids below 1.3 m
Location
: North Erhai Road, Dali City
Transportation
: From the Ancient Town in Dali, bus No. 2 and taxi will bring you here.