Cangshan Mountain
Facing the Erhai Lake in the east and close to the Heihui River in the west, the Cangshan Mountain embraces many marvelous landscapes, among which the sceneries of clouds, springs, snow and marble are the top four charming.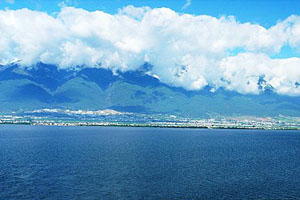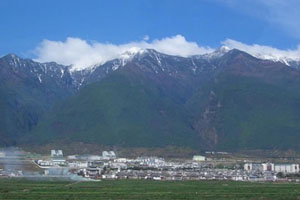 Standing at the peak of the mountain, you can enjoy the beautiful varied clouds over the Cangshan Mountain, which will be as thin as a veil and then as dark as ink. The most magical and beautiful clouds are called Yudai Cloud that looks like a fairy dancing with a ribbon made of jade and the Wangfu Cloud that looks like a lady waiting for her husband with great eagerness.

Springs bleeding out from the rocks form many gorgeous landscapes. Apart from the eighteen streams, there are still many lakes over the altitude of over 3,800 meters, along the shores of which valuable medicine materials, trees of rare species and various flowers can be seen.

Amazingly, the 4100-meter-high Cangshan Mountain is covered with snow all the year. When the sun rises, it is very dazzling and splendid, especially in March. On the moonlight night, the snow reflects off the mountain, which will form a picture of a crystal world.

The last thing worth us to pay special attention to is a smooth marble named Cangshan Stone. Cangshan Mountain is a famous manufacture center of such a stone. The Caihua Stone distinguish itself by its unique patterns. Natural scenes of mountains, flowers, birds or people appear once it is polished.

Come to experience the roaring stream rushing down from the peak along the valley of the Cangshan Mountain, come to experience the special customs of the Bai Minority and come to experience the scenic spot group around the Cangshan Mountain and come for the discovery of more distinctive sceneries.

Opening Hours: 9:00 -- 18:00

Ticket Price: 90 CNY

Location: Cable car and horse can bring you here.