Dali Ancient Town
Delaying on the Cangshan Mountain, Dali Ancient Town, laying in the hug of the Erhai Lake, has experienced 1200 years' history. Along the Ancient Town, the customs and ancient architectures with the original designs are well reserved. Potted plants can be commonly seen in the old houses, ancient wells are still shared among neighbors and clear streams are flowing through the town.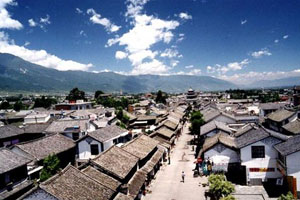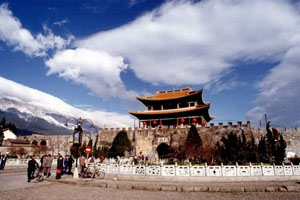 The chessboard-like lanes paved with marble planks connecting the old buildings make the ancient town more order and peaceful. The walls of the ancient town are designed with the same grey tile roof, which seems more plain but gorgeous, while the folk residences are characterized by the gate tower, the eaves, the window lattice with carvings and marbles floor.
The Dali Ancient Town was originally called Yangjumie Town, which was an important gateway to the Silk Road in Southwest China. In the Tang Dynasty, under the order of the government a magnificent town was constructed with a wall length of 6 kilometers, a height of 7.5 meters and a thickness of 6 meters. There were four city gates facing west, east, north and south, upon which sat a gate tower. Four further towers were also placed at the four corners of the city wall. As time goes by, it experienced many phases of the city's prosperity as well as decline. The city layout was uniform, with five main streets from south to north and eight main streets from east to west, while marketplaces were neatly arranged within the city, which has remained unchanged to this date.
Opening Hours
: the whole day
Location
: Fuxing Road, Dali
Transportation
: Bus No. 4 and 8 will bring you here.