Xizhou
Xizhou ancient Town, as one of the birthplace of the culture of Yunnan, was of great significance in the strategic pass and the trade as well as the development of the Buddhism in this area. It is well known for the well-preserved ancient houses with spacious courtyards built in the Qing Dynasty (1644-1912).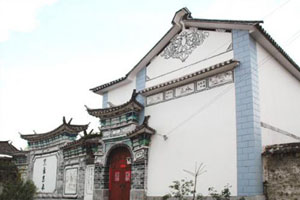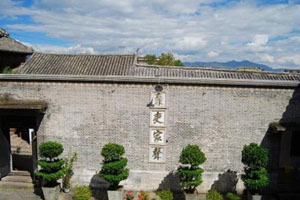 Owing to the frequently hits of the earthquakes, the Bai minority here had learnt to build their houses in two-storied structures. The most common layout of a residential building here is an open courtyard with houses on three sides. The fourth sight is a white-coated screen wall. Each side of the building is two-storied, with three rooms upstairs and three rooms downstairs.

At the four corners of the building complex, there are usually another four corner courtyards. These are much smaller ones that are mainly used as space for storage or the kitchen. One of the corner courtyards would be spared to function as the first gate, which opens up to the outside lane or alleyway. For the sake of privacy the second gate should be opened on a different wall of the same corner courtyard, thus no passers-by can peer directly into the life in the big courtyard.

All the open courtyards are paved with stone slates, the top part of the walls elaborately decorated with nice ink paintings, wooden doors come with carving of auspicious motifs and symbols. What impress us the most are the beautiful and graceful potted landscapes that with various shapes and styles. It seemed every family is happy to have flowers in their courtyard and they try to pick up specific species that would respectively come in bloom in different seasons.

Opening Hours: 8:00 -- 18:00

Ticket Price: 5 CNY

Location: Xizhou Town, Dali City

Transportation: Bus from Xiguan Long-distance Bus Station will bring you here (8 CNY).