Jizu Mountain
Jizu Mountain is a member of the five mountains famous for the Buddhism in China and the others are Emei Mt., Wutai Mt., Jiuhua Mt. and Putuo Mt. With 13 splendid peaks, 34 steep cliffs, 40 hills of various sceneries, 45 mysterious caves, more than 100 marvelous spring pools, Jizu Mountain is a good place for adventure for extraordinary sights.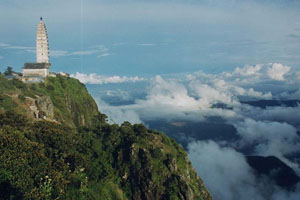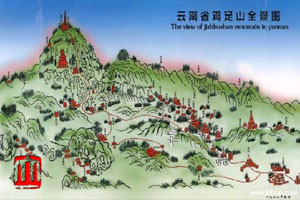 Standing at the peak of the 3240-meter-high Jizu Mountain, you will be amazed by the wonderful landscapes. At the east, the fantastic sunrise is waiting for you. At the south, the various caprice clouds will make you busy to tell what they are like. At the north, the snow mountain covered with white shinning coat is a feast of eyes. At the west, you can have a bird's eye view of the peaceful and beautiful Erhai Lake.

In the mid of the Ming Dynasty, Jizu Mountain enjoyed the same fame as Ermei Mountain, Wutai Mountain, Jiuhua Mountain, and Putuo Mountain, with old trees touching the sky, smoke raising upwards, lots of old temples around the mountain, masters of monk coming out generations after generations, and visitors and scholars coming and going frequently. This mountain has been prosperous over thousand years, known as "A Mountain with Spirit, Capital of Buddhism".

Jizu Mountain has a long history and a bright culture. It is said that Kasyapa once performed Buddhist rites there. The existing structures on the mountain include the Zhusheng, Jingding, and Fota temples, the Kasyapa Hall, Huashou Gate and the Huideng and Muni convents. Jizu Mountain features a magnificent landscape and various animals and plants. It is a nature reserve in Yunnan Province.

Note:
March and April are the months when traditional festivals are celebrated, which is the best time for experiencing the pure local customs and culture.

Opening Hours: 8:30 -- 17:30

Ticket Price: 60 CNY

Location: Binchuan County, Dali City

Transportation: Shuttle bus from the county center will bring you to the foot of the mountain. To the peak, you can take the cable car or ride the horse.