The Oriental Pearl TV Tower
468 meters (1536 feet) in height, the Oriental Pearl TV Tower is the tallest TV tower in Asia and the third highest in the world, next to the 553, 33-meter-high Toronto Tower Canada and the 533-meter-high TV Tower in Moscow, Russia. Towering in Pudong Park in Lujiazui, it has been the symbol of Shanghai, consisted by 15 spheres of different size at different levels. The tower might bring to your mind an old famous poetic line-- "large and small pearls dropping onto a jade plate". Climbing up on the tower, you can find a revolving teahouse and a sightseeing platform, which can accommodate 1600 people at a time.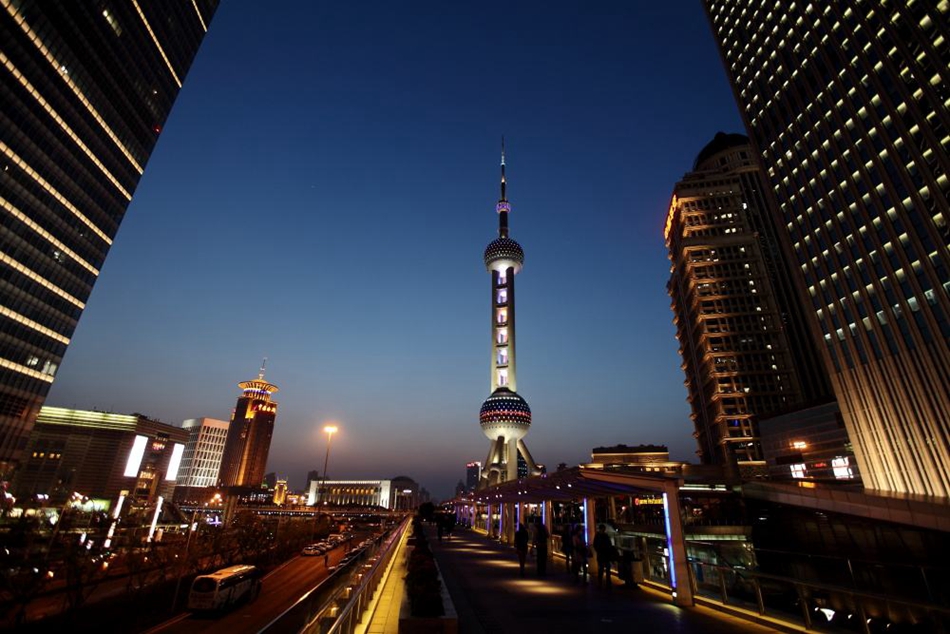 The Oriental Pearl TV Tower was started to be built in 1992, and with 50 million Yuan in government funds and a combined 150 million Renminbi Yuan and 10 million US Dollars in bank loans from 44 banks. It finished construction and opened to the public in 1994. In Chinese, the tower refers to "two dragons playing with a pearl". It began to broadcast nine television channels and 10 FM radio channels in 1995. Equipped with tourist service facilities, including eateries, shops, recreational centers and a hotel, it can offer you convenience. Taking an to the tower's observational deck at a height of 263 meters, you can have a bird's eye view of Shanghai.
Situated in the pedestal of the Oriental Pearl TV Tower is the Shanghai Municipal History Museum. In addition, you can find a futuristic space city and a fabulous sightseeing hall in the large lower sphere, while in the inner tower, there is a recreational palace. You can see all the way to the Yangtze River on a clear day from the sightseeing hall. There is a science fantasy city on base of the tower. If you feel tired after going around the tower, you can stop at the five smaller spheres hotel which contains twenty-five elegant rooms and lounges. At the very top of the tower is a pearl, containing shops, restaurants, (including a rotating restaurant) and a sightseeing floor.
There were 295 overseas presidents and leaders and 25 million tourists coming to this tower in the past ten years, making it the world's most profitable TV tower. The annual incomes of the Oriental Pearl TV Tower have exceeded those of The Eiffel Tower. According to the World Brand Lab, the tower was evaluated 96th on the list of the 500 most valuable Chinese brands with a brand value of 5.148 billion Yuan (US$6.2 billion). It was one of the top 20 influential Chinese brands in the world for the year 2003 and 2004.