Baishui Tableland
Baishui Tableland, an ancient Chinese landform with a history of 200,000 to 300,000 years that covers an area of three square kilometers (about 741 acres), is famous as one of the most attractive destinations in mysterious Shangri-La. It is also called White Water Terraces, a kind of miraculous natural scene produced by years of carbonate sediment of the fountain flowing through, which looks like terraces. Be praised as the Fields of the Fairy, the White Water Terraces with the water running on are surprisingly flicking under the sunshine. Taking a walk on it with your barefoot, you will feel the coolness of it is beyond description.
The spring water runs down along the slope of the mountain, leaving an impression of a large white jade carving among the green mountains. When the autumn comes, the mountains around the Baishui Tableland will be blooming into various bright-colored flowers and leaves, which will form a spectacular white contrast to the Fairy Fields.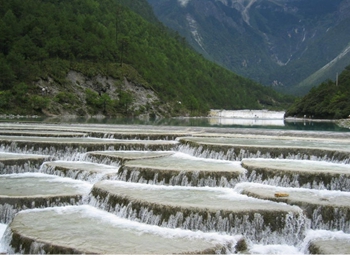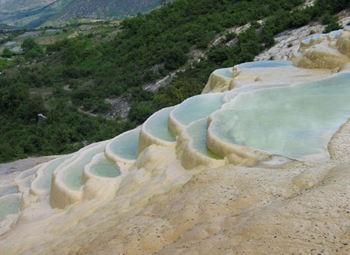 Baishui Tableland in the Naxi language means Gradually Growing Flower, which, in addition, is regarded as the birthplace of Dongba culture of the Naxi Minority Group. As the legend goes, the first saint of the Dongba Religion was attracted by the fascinating scenery around here on his way to home from Tibet. He decided to stayed and did preach. Later, the Baishui Tableland became the Holy Land of the Dongba Religion. Opposite of Tableland is a limestone cave at the foot of Shangbo Hill, which was used to sacrifice to the king of dragon.
Therefore, if your schedule falls on the eighth day of the second lunar month when the Naxi people will gather here to celebrate their traditional festival, you will get the chance to join in them to enjoy the local singing and dancing all day and night.
Opening Hours
: 8:00 -- 19:00
30 CNY for the kids
45 CNY for the adults
Location
: 100 km away from the Zhongdian County
Transportation:
Shuttle bus (30 CNY) and taxi (200 CNY) will bring you here