Entertainment in Shangri-la

Dancing
Shangri-la is home to more than 26 ethnic groups, who are really good at dancing and singing. Going through Shangri-la, you will be surrounded with distinctive and gorgeous folk dancing and singing. Tibetan Guozhuang dancing, Reba dancing of Naxi, Xuanzi Dancing of Deqin and feet dancing of Lili are featured by distinctive regional characteristics and strong religious flavor. with the playing of string instrument and lusty singing ,people of all ages come together and enjoy the dancing.
Guozhuang Dancing
Guozhuang is also called Guozhuo, Gezhuang and Zhuo etc. It means "singing and dancing in a circle" in Tibetan. Guozhuang dancing is one of the three major Tibetan folk dances, and is popular in Qamdo and Nagqu in Tibet, Aba and Ganzi in Sichuan, Diqing in Yunnan, and Tibetan-inhabited areas of Qinghai and Gansu. In the performance, men and women, grouped on opposite sides, hold hands to form a circle. One person will take the lead to start the performance, and men and women will ask and answer questions in turns. They sing to each other without accompaniment. The entire performance consists of two parts: the earlier part is featured by a slower tempo and the later a faster tempo. Dancers lift, swing and shake their arms in the dance, and everyone moves in a clockwise rotation. The circle's sizes vary, and occasionally, the circle will transform into the shape of "dragon wagging tail".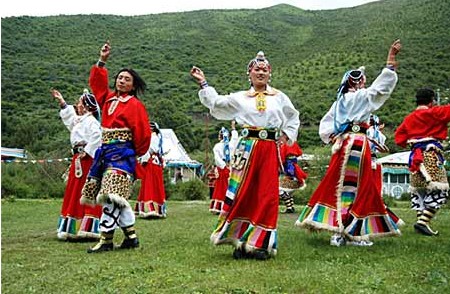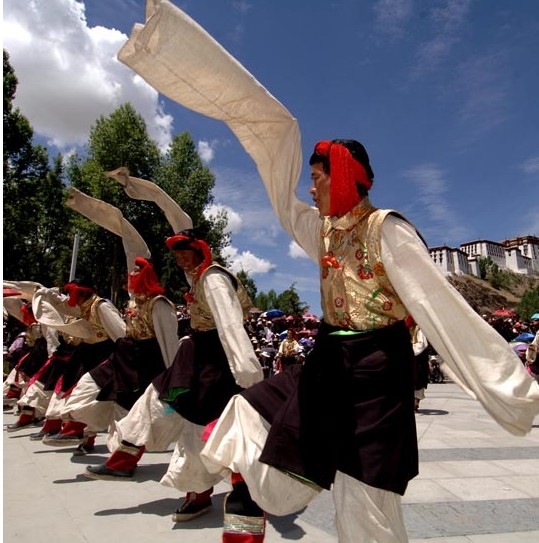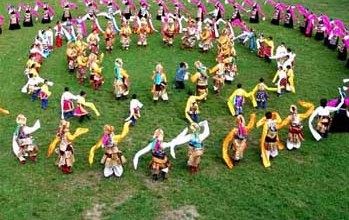 Reba Dancing
It is said Reba dancing was created in 11th century. It is one of dancing performed by Tibetan Reba artists. Normally, they are grouped based on a family. Reba Dancing integrates tambourine, talking and singing, dancing, acrobatics, Qigong (a system of deep breathing exercises) and Reba Opera. It follows a regular process and consists of 12 programs. The performance may take 5 hours or longer.
Xuanzi Dancing
Xuanzi Dancing means Guoxie (dancing in circle) in Tibetan. It is basic dancing in the life of Tibetan people. So-called "Xuanzi" is the dance accompanied with horsetail huqin. There is no fixed site for Xuanzi dancing. people of all ages and genders can take part in it. Whenever there are festivals, celebrations and important get-togethers, people will come together for the dancing. Men play the string instrument and women make sleeve dance. They group on opposite sides, hold hands to form a circle. One lead the chorus and the other recite. Then they exchange the roles.
Xuanzi dancing includes: greeting dance for welcoming guests, praising dancing for showing the respect and love to the superior and hometown and love dancing for expressing the emotion and friendship between men and women. 
Feet Dancing
Feet dancing are a kind of dance featuring the movements of the feet. It is originally for festivals, weddings and funerals. After liberation, it has developed into entertainment dancing.
There is no accompaniment neither by instrument or singing. They dance by the pounding of the feet and tempo inside their minds. Occasionally they will yell out "chi, ni, shuo, er"(means one, two, three, four) to keep the same pace.
Shows and performances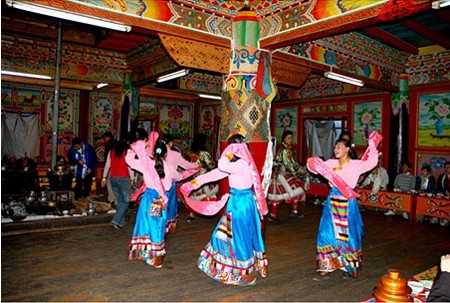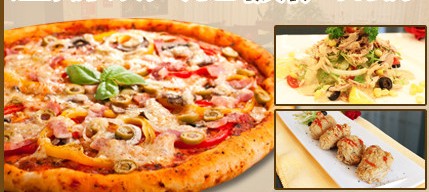 Black-necked crane Dancing Hall
Location: Wenmin Street, Jiangtang Town.
Tel: 0887-8222310
The performance has strong Tibetan flavor. There are ethnic dancing parties, movies, karaoke and skating etc. The average spending per person is RMB30-50.
Bars and cafes
Black Pottery Coffee
Location:Old Town, Cang Fang Street, #5 Chi Lang Gang (Just below the giant prayer wheel in the east end of the Old Town, and up the street from the large white stupa / chorten)
Tel: 0887- 823-0447
The owners of Black Pottery Coffee, Russ & Kesang, know the region well, so you can get up to date travel information and arrange local excursions with them. They specialize in day trips to Kesang's village, and trekking at Meili Snow Mountain (Kawa Karpo). Kesang, Russ, and their daughter Fei Fei, will make you feel welcome in Shangri-la, and help you plan your adventures there. The Cafe offers coffee and cake, wine by the glass, creamy hot chocolate, and ginger tea, as well as Tibetan, Chinese and Western food specialties. Try their Tibetan Hot Chocolate (with rum; espresso optional). Free Wireless Internet.
Traveller's Club 
Location: north of the old town.
Recently renovated. Friendly boss Wandou.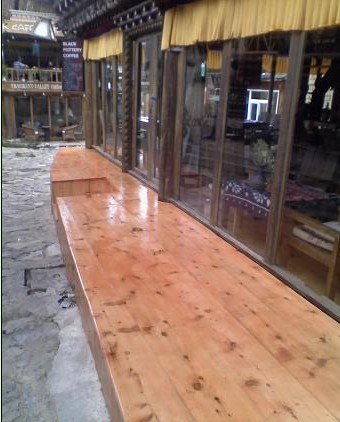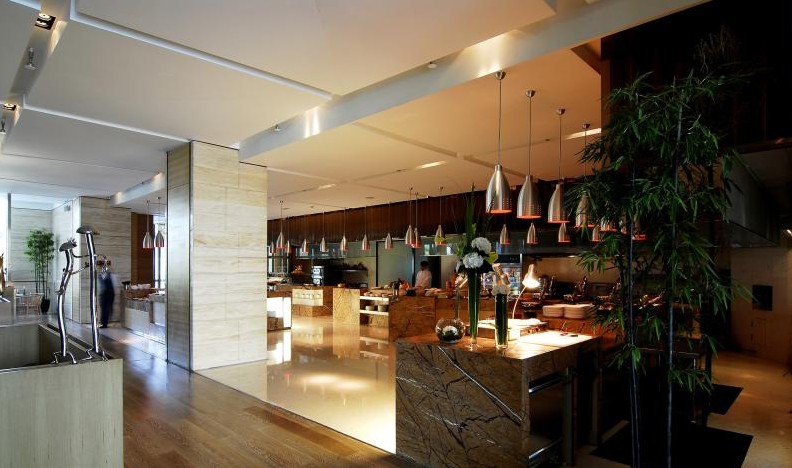 Raven Cafe/Bar 
Locaiton:Walk into the old town from the main entrance, when your reach the main square cross it diagonally and take the path up the hill, 50 m on your right).
Opened in 2002 by a Brit and an American and two locals. The first bar (or business of any kind) still running in the Old town (the "Cow Bar", now closed, was the first), this place is a nice surprise. Good coffee (roasted on the premises), heart threatening hot chocolate, homemade cakes, quesadillas, imported beers and all manner of cocktails. A hub for local Tibetans and resident foreigners. They've got wireless. Pool table upstairs. Hours 11.00 a.m till last man standing  
Helen's Pizza Ristorante
Location: Dawa Road Zhong Dian (On the left just past the main junction at the bottom of the hill as you enter town from the south. Opposite the square on the edge of the old town.), Tel:0887-8224456. When you feel like a respite from local food the friendly and helpful English speaking Italian owner serves authentic pizzas and pastas.The homemade tagliatelle is particularly good. And best pizza in Yunnan. Serves also Chinese and Korean food and excellent curries and Indian tee. The stove at the window table is very comforting on a cold night and the owner is very willing to give advice and help with onward travel etc.  
 
Marco Polo
Location: Opposite the Raven Pub (Take top left turning out of square and first right - about 50 meters).
Excellent Western Food at reasonable prices. Good pizza. Opened in July 2010 and run by Dawan who set up N's Kitchen and restaurant and established the western menu there.
La Ji Luo Music Bar
Add : Lizhong Road, Shangri-la County
Lahm Bar
Add : Cangfang Road, Shangri-la County
Crow Bar
Add : Pedestrain Street, Shangri-la County
1359 Bar
Add : Pedestrain Street, Shangri-la County
Zhao's Bar
Add : Heping Road, Shangri-la County
Hikers' Bar
Add : Tuanjie Road, Shangri-la County
Noah Cafe
Add : changzheng Road, Shangri-la County
Tibetan Cafe
Add : Changzheng Road, Shangri-la County
Horizon Cafe
Add : Changzheng Road, Shangri-la County
Dapu Teahouse
Add : Tuanjie Road, Shangri-la County
Shengping Teahouse
Add : Changzheng Road, Shangri-la County
Tel : 0887-8288338
Annan Suyou Teahouse
Add : Jiantangdong Road, Shagnri-la County