Shudugang Lake
Shudugang Lake and the Bitahai Lake are praised as the Twins Lake in Shangri-La. Lying at the place as high as 3705 meters the Shudugang Lake covers an area of 15-square kilometers-sluice. As one of the biggest lakes in the county, the Lake is endowed with limpid and bright lake water. It is teemed with an extraordinary kind of fish with a chapped belly. The fish is complete golden yellow and its meat is tender and fresh. Near the lake inhabits a great number of widgeons, yellow ducks and so on.
Embraced by mountains four sides, the lake is covered by gloomy forest. A tract of birch forest sits in the east of the lake. When autumn coming, it all turns to golden yellow. Tall, thick and strong, firs and spruce are stabbing the sky uprightly. In virtue of their bushy and emerald crown, they even can be served to shelter from rain. In the forest, there are various rare birds and animals, musk deer, bear, leopard, golden cat, and so on, for example.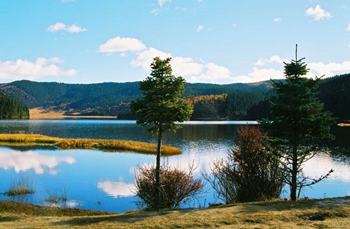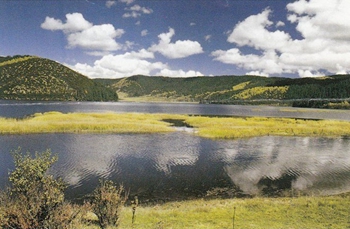 A famous pasture lies near the lake, which has a vast luxuriant meadow. Whenever spring and summer come, a large quantity of flocks and herds cruise around the lakefront. Herd sheds are dotted in the pasture. On seeing beautiful lake, verdant mountains, lovely cows and sheep and hearing melodious herding flute, one will taste the leisure of living in the tableland.
Opening Hours
: 8:00 --17:00
190 CNY
Half fare for the students, the disabled and soldiers
Free for the kids below 1 m and the aged over 70 years
Location:
35 km (20 miles) away from Shangri-La County
Transportation
: Taxi and chartered bus will bring you here.