Deqin Prince Snow Mountain
Deqin Prince Snow Mountain is situated in the west of Shengping Town and close to Lancan River. It stretches long and unbroken about hundreds kilometers, with icy peaks lying across the Mountain. In all there stand 13 snow peaks of 6000 meters above the sea level, which are titled of "Thirteen Peaks of Prince". Kagebo Peak of an altitude of 6740 meters is the highest peak in the mountain range and also in Yunnan Province.
Kagebo Peak is the leading scenery spot in the Three Parallel Rivers (Lancang River, Jinsha River, and Nu River) of Yunnan Protected Areas and it was praised by Dr. Lock as "the most beautiful peak in the world". In 1986, the 10th Panchen Lama of Tibetan Buddhism named Quedishengzan had held a grand ceremony here. Reportedly, the Peak at that time was surrounded by clouds and wreathed by fogs so that people found it difficult to view the real face of it. After the Panchen Lama chanted sutras and splashed sacred water, all clouds and fogs were cleared off as if it was immortals that dissipated them, so at last, people around were lucky to see the towering Kagebo Peak. This story had regarded as a miracle by local people.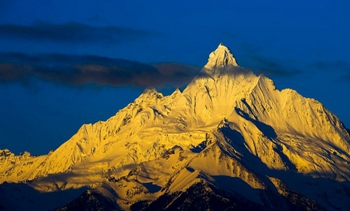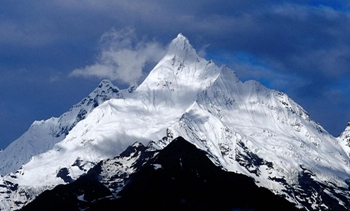 Until now, Kagebo Peak is still a virgin peak. As far back as in 1902, an British mountaineering pary had taken a big challenge to conquer it for the first time. Since then, a united mountaineering party (including American, Japanese and Chinese mountaineer) tried to climb it for four times, but they turned out to be failed. Later in 1991, 17 brave mountaineers of Sino-Japan united mountaineering party attempted to climb it again, unfortunately they all died in a snowslide accident. Both China and foreign countries were greatly shocked by this disaster. Not until July 1998 did their remains be occasionally found by a local person. In order to commemorate their heroic undertakings, people built a monument in the Feilai Temple.