Bitahai Lake
As the highest lake in Yunnan, Bitahai Lake is true to its beautiful name that means a lake as mild as the wool felt. With crystal-like clear waters flicking under the sun and the picturesque sceneries around, the Bitahai Lake enjoys the high reputation as Lake of Lakes, and the island in the middle of the lake is the most wonderful part of the lake.
Far from the pollution of the modernization, in this 1,600,000 m2 wide lake, live many rare fishes that are the offspring of the fish from Quaternary period around 2,500,000 years ago. On steaming mountains around the lake, the azalea is the most marvelous scene when the blooming season falls in May and June. What will make you amazed most is the scene that when the numerous "drunk" fish are swimming on the very surface of the lake after they ate that azalea blossoms fall on the lake.
Among those enchanting legends, one tells the origin of Bitahai Lake. A goddess carelessly dropped her mirror to the earth when she was making up. The mirror was broken into pieces and they became lakes on the plateau. Among these pieces, the most attractive piece with green jade turned into today's Bitahai Lake. Thus, Bitahai Lake is widely recognized as 'A Pearl on the Plateau' and the most attractive lake in Shangri-La. Actually, when coming here, one can surprisingly find that there is a story hiding behind even a tree or a hill around the lake. it is not only a feast to the eye, but also enhances our sense of beauty and our imagination.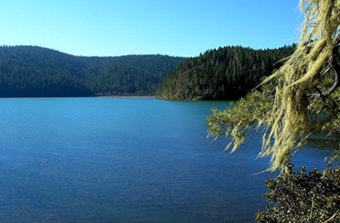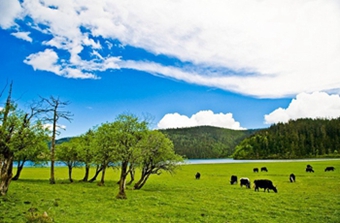 Look up at mountains far away with snow covered all year round, you will find that the flourishing forests cast a great contrast to the lake, making this peaceful lake more charming.
Opening Hours
: 8:00 --17:00
190 CNY
Half fare for the students, the disabled and soldiers
Free for the kids below 1 m and the aged over 70 years
Location
: 25 km (15 miles) away from the Shangri-La County
Transportation
: Taxi (150 CNY) and chartered bus (180 CNY) will bring you here.