Chengdu Giant Panda Breeding and Research Base
Speaking of the panda, the phrase "National Treasure of China" will hit our minds. Panda is a kind of precious wild animal species that requires a demanding living environment. Therefore, China set up many Breeding and Research Bases to provide an ideal and most suitable natural living circumstance for the Chinese Giant Panda, the base in Sichuan Province is included.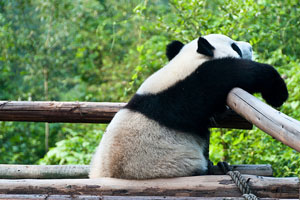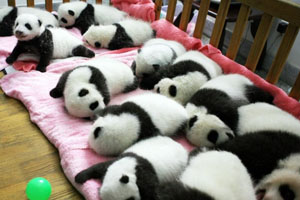 The Sichuan Panda Base locates 10 km away from the city center, in which there are over 100 rare wild animal species, including the giant panda, the red panda, the white stork, the white swan, the black swan, the Grus nigricollis, the peacock and the mandarin duck etc, and more than 300 rarely seen higher plants. To provide a clearer picture of the giant panda and to make people pay due attention to the protection of the endangered wild animal, a series of exhibits of the basic information about giant panda is conducted in the 7000 m2-wide base.
The lovely and charmingly naïve pandas are waiting for your visit in the green bamboo wood with flowers blooming around and the birds singing in the skies. The feeding time, from 8:30 to 10:00 in the morning, is the best time for you to have a close look at them, but do not disturb them.
Note:
1. No smoking
2. No littering
3. Do not make any noise
4. Keep away from the lawn
5. No feeding the Giant Panda or other wild animals
6. No picking the flowers, neither can you capture the insects
Opening Hours
: 08:00 -- 18:00
58 CNY for individual visitor
53 CNY for group visitors
29 CNY for group student visitors and people during 60 and 70 years old
Free for the people older than 70, kids below 1.2 meter, the retired, the disabled and the soldiers
Location
: No. 1375, Panda Ave. Chengdu City, Sichuan
Bus No. 902 from the New South Gate (xinnanmen) Station, bus No. 198 and 532 and taxi (30 CNY from the city center) will bring you here directly.