Eating in Chengdu
Local Famous Food
When traveling in Chengdu, you will surprisingly find that the Chengdu people look healthy and lovely from their skin. The reason is simply that the Chengdu people love pepper, which is good for the skin, so much so that they treat pepper as an essential in their daily life. Therefore, it is doubtless that the Sichuan Cuisine (one of the top ten Chinese Cuisines) is characterized by the spicy and hot. Besides, the renowned local cookery—hotpot is known for great amount of the pepper added in it.
Sichuan Cuisine is an aged cuisine originated in the late 200s B.C. Inhabit in the subtropical area people found that the pepper can cure the diseases caused by the hot and wet weather. Thus the Sichuan Cuisine featured by the spicy and hot flavor. The representative Chengdu dishes are Fish-flavored Pork and Kung Pao Chicken.
Kung Pao Chicken
(
Spicy diced chicken with peanuts
) is very popular among the western countries, especially in American and Britain.
Ingredients: diced chicken, hot pepper, ginger, garlic and peanuts.
Taste: fresh and tender, slightly hot and spicy, slightly sweet and sour.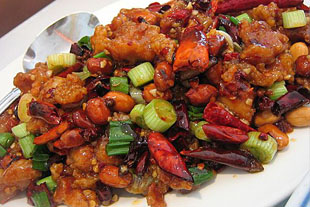 Fish-flavored Pork is widely prevalent in the Sichuan province. Though being named fish-flavored, this dish has not relation to the fish at all.
Ingredients: pickled pepper, soy sauce, ginger, garlic and pork.
Taste: fresh, savory, sweet, sour and spicy.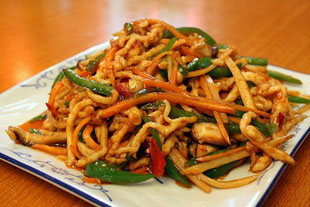 Kai Shui Bai Cai (Steamed Chinese Cabbage in Supreme Soup) is a traditional Sichuan dish. "Kai Shui" literally means the boiled water, which actually is a kind of clear soup that contains the well chosen hen, ham, dried scallop and the upper part of a leg of pork etc. Having been painstaking cooked, the soup looks as crystal as the boiled water. The cabbages in the soup look pure and fresh.
Ingredients: Chinese cabbage, hen, ginger, scallion etc.
Taste: slight and pure, never too greasy or too thick.
Hotpot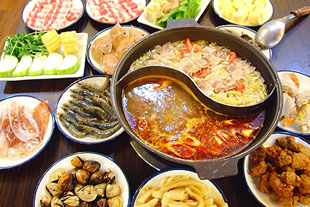 When refers to Chengdu, people may immediately think of the hotpot. Introduced from Chongqing, but distinct from that of Chongqing, Chengdu hotpot varies from simple spicy to moderate, but not hotpot without any pepper. Hotpot is not a kind of dish but a kind of cookery. The hotpot cookery is divided into two kinds—the one cooked with soup and the one without soup. Chengdu people prefer to the hotpot no matter which season it is, so they can stand the foods no matter how spicy it is. The fish hotpot, chicken hotpot and the duck hotpot are msot commonly seen in Chengdu.
Snacks
Chengdu is hailed as the City of the Gourmet. Apart from the Sichuan Cuisine and the hotpot, there are over 200 kinds of yammy snacks along the streets.
Mapo Tofu is a representative Sichuan dish well-known from the north to the south. The very place to experience this spicy dish in Chengdu is Chen Mapo Restaurant.
Ingredients: Tofu, special sauce for the Mapo Tofu, ginger, scallion, garlic, pepper and pork.
Taste: hot and spicy, savory, fresh and soft.
Beef and Beef Offal (Fu Qi Fei Pian) is a cold dish loved by the Sichuan people young and old. The ingredients are sliced thinly and broadly.
Ingredients: the beef and the offal of the cattle like the heart, the stomach but not the lung.
Taste: fresh and tender, slightly hot and spicy.
Lai Tang Yuan (Lai's Glutinous Rice Ball) is a kind of nutritious glutinous rice ball made by Lai (Surname of the maker). With more branches than McDonald's, Lai Tang Yuan is easy to find in Chengdu.
Guo Ba Rou Pian (Rice crust cooked with the pork) is a special dish unique to Chengdu. This tasty dish arrives at your table in two separate parts; a golden crust of cooked rice in one bowl and hot sauce in another. The hot sauce is immediately poured on the rice which crackles at the sensation!  
Cold Noodles (Jisi Liang Mian) is a traditional cold dish from Sichuan, which has become popular all over China recently, especially in the north. Noodles are first cooked and then left to cool. They are then served with bean sprouts and sauce or eaten with shreds of chicken meat, pork and ham.
Bang Bang Chicken (Bang bang ji) is a traditional local dish that actually originated in Leshan, and was introduced to Chengdu in 1920. To prepare this dish a flaming stick is used to reheat a cooked chicken so that the meat becomes light and flaky. The chicken is served with sesame and soy sauce. This is one of the tastiest cold dishes in Chengdu and less spicy than many others which are popular here.
Huangcheng Laoma Restaurant
(An old-fashioned hot pot restaurant, the No. 1 hotpot restaurants)
Location: No. 106, Qintai Road, Qingyang District, Chengdu.
Representative dish: Super Beef, Bovine Stomach and Myosoton aquaticum.
Yinxing Restaurant
Location: No. 11 Wanbei Rd., Chikan District
Representative dish: Boiled fish in chili sauce
Hongxing restaurant
Location: No. 137 East Ziwei Rd, Wuhou District, Chengdu
Representative dish: Hongxing Chicken and Roasted Fish with the root of balloon flower
Baguo Biyi (where you can enjoy the face-changing show)
Location: No. 20, Fourth Section, South Renmin Road, Chengdu
Representative dish: lobster and the Sichuan Cuisine
Shizilou Restaurant
Location: No. 30, Wannian Road, Chenghua District, Chengdu
Representative dish: Steamed Mandarin Fish and hotpot.
Western Food Restaurants
Chunxi Restaurant: Wangfujing Shopping Mall, Chengdu
Zongfu Restaurant: Floor 2, No 21-27, Zongfu Road
Renmin Road Restaurant: Renmin Shopping Mall, Chengdu
Chunxi Restaurant: Chunxi Mension, No.1-21, Da Kejia Lane
Kehua Restaurant: No. 9, Kehua Middle Road
Zufu Restaurant: No. 6, Zongfu Road (Ziwei Hotel)
Yanshikou Restaurant: No. 9, Lihua Street, Chengdu (floor 1, Hualian Shopping Mall)