Leshan Giant Buddha
As the largest stone sculpture of Buddha in the world, the Leshan Giant Buddha, sitting at the confluence of the Minjiang, Dadu and Qingyi rivers, costs 90 years to complete. The idea of the creation of the giant Buddha sculpture is out of the popularity of the Buddhist in Tang Dynasty.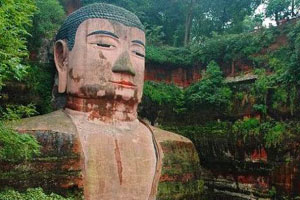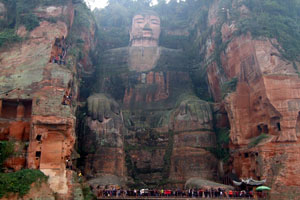 The splendid and gorges giant Buddha is as tall as 71 meters, with a head of 14.7-meter-tall and 10-meter-wide, the upper surface of the feet of which can hold more than 100 people. The giant sculpture is constructed based on the shape of a Maitreya who is depicted barefooted with drooping ears and has his hair arranged in a spiral topknot. The name Maitreya is derived from the Sanskrit maitri that means mercy. His worship was especially popular during the 4th to 7th century, and his images are found throughout the Buddhist world.
On both sides of the giant Buddha, there are two 10-meter-tall Dharmapalas status and hundreds of stone sculptures on the cliff, providing tourists a feast of sculpture art. Seen from far away, the Buddha, circled by clouds and mist, is like the real Buddha sitting in a wonderland with bodyguards on both sides.
Opening Hours
: 09:00 to 16:50
90 CNY for the entrance
50 CNY for the students, people from 60 to 69, the disabled
Free for the people over 70 years
10 CNY at weekends for the people holding the local ID card
Location
: Leshan City, Sichuan Province
Transportation
: Take the ferry from the docks in Leshan to either Lingyun Mountain or Wuyou Monastery and walk from there.