Wuhou Memorial Temple
Covering 37,000 square meters, Wuhou Memorial Temple was built in the year of 233 in memory of Zhuge Liang, the most brilliant military counselor in the Three Kingdoms Period (220-280). Inside the temple, the magnificent and exquisitely designed buildings are hiding in the flourishingly towering pine trees, creating a historic environment with a strong breath of history.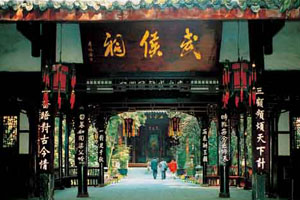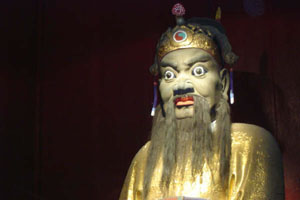 In the exhibition zone, there are a lot of valuable historic relics, including the well-known couplets created by Du Fu, exquisite carvings and sophisticated stone inscriptions, the precious works of calligraphy and painting, the statuses of the celebrities in Three Kingdoms Period as well as the room with the original appearance in which Zhuge Liang lived. The exhibitions may cause an amazing feeling likes being back to the Three Kingdoms Period.

The temple displays the suppleness of the Chinese garden. There are numerous historical relics like horizontal cribbed boards, couplets, inscribed tablets, penmanship, furnaces, Chinese tripods, etc. The SanZui (Three-Best) horizontal inscribed board, Zhuge Liang's Lung Gun couplets, Chu Si Biao and the tomb of LiuBei are the most famous one. Today the Wuhou Temple is the most famous tourist attraction of Chengdu city. It is not only a site for people to commemorate Zhuge Liang, but also serves as a museum to the history of the Three Kingdoms Period.

Opening Hours: 8:00 -- 18:00

Ticket Price: 60 CNY

Location: No. 231, Wuhouci Street, Chengdu City

Transportation:
Bus No.1, 10, 57, 82, 301, 334, 335, 503, 521, 901 and 904 will bring you here directly.