Emei Mountain
Consisting of four mountains with the peak of 3099 meters and covering 154 square km, E-mei Mountain is praised as the finest mountain under heaven for the rarely seen picturesque landscapes in the precipitous topography. With two rivers circling, E-mei possesses marvelous scenes--the long peaceful valley, the curtain-like rushing waterfalls, the flourishing trees and blooming flowers—together with which the Buddhist temples form a beautiful picture.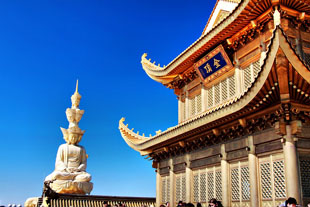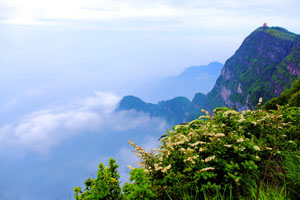 E-mei Mountain together with Wutai Mount in Shanxi Province, Putuo Mount in Zhejiang Province and Hua Mount in Anhui Province is member of the mountains that are known for the Buddhist culture. The Buddhist Light is the most spectacular scene that can be seen when the tiny drops of water in the clouds reflect the sunshine forming many bow rings. The Buddhist Light together with the rarely seen Buddhist Lamp, the beautiful sunrise and mysterious sea of clouds appeals to an increasing Buddhists and tourists.
Owing to the high altitude, the gorgeous E-mei Mountain can experience different weather on the same day, thanks to which the wild animal and plant species can enjoy a favorable environment. Therefore, E-mei Mountain is hailed as the Wild Kingdom with more than 3000 wild plant species and over 2000 wild animal species living here. A lovely scene is that monkeys in groups would come to the tourists for foods in a harmonious way.
Come here for the blooming rarely seen flowers and flourishing trees and bamboos among which the lovely monkeys, beautiful butterflies, giant pandas and various birds are playing harmonious form a natural paradise.
Note:
1. The best time for traveling here is spring and autumn
2. The best time for sunrise--6:00 in summer, 7:00 in winter
3. The best time for clouds viewing--9:00-10:00 in the morning, 15:00-16:00 in the afternoon
4. The best time for Buddhist Light--9:00-10:00 in the morning, 15:00-16:00 in the afternoon
5. Make preparation for protecting yourself from the coldness, rain and hurt by the slippery roads.
Location
: E-mei Mountain, Chengdu city
Transportation
: You can come here by road, railway and boat from Chengdu easily.