Wangjiang Pavilion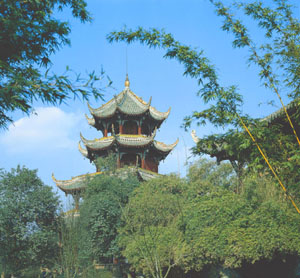 Wangjiang Pavilion with a height of 39 meters is the most shinning architecture in the Wangjiang Park that covered by green bamboo woods. Wangjiang Pavilion, built in Qing Dynasty (1644-1912), was designed as an octagonal shape with the overhanging eaves, sharp golden roof, and various exquisite figure carvings and clay sculptures of animals decorating each floor. Located on the bank of Jinjiang River, Wangjiang Pavilion provides an ideal angle for river viewing, from which it derived the present name "Wangjiang Lou".

This splendid pavilion was built in memory of Xue Tao, a brilliant female poet in Tang Dynasty who has left behind many great poems. There are more than 100 kinds of bamboo around the Wangjiang Pavilion for Xue Tao has a passion for bamboo in her life. Around the Wangjiang Pivilion, out lay a group of memorial buildings including Wuyunxiang Hall, Quanxiang chamber, Pipa pavilion among which there are house a large amount of steles, paintings, calligraphy, inscribed couplets and poems.

Opening Hours: 8:00 -- 17:00

Ticket Price: 20 CNY

Location: Wangjiang Road, Chengdu City

Transportation: Bus No. 3, 18, 19, 31 and 35 will bring you here directly.