Dujiangyan Irrigation System
The Dujiangyan Irrigation System, constructed in Qin Dynasty around 2,200 years ago, is a shinning pearl in the irrigation development of China, which is also praised as the "Originator of the Culture in Irrigation Work". As the earliest irrigation work without dam in the ancient China, Dujiangyan has been making the greatest contribution to the development of the economy in Chengdu--the land of abundance.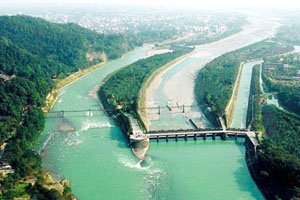 Having witnessed centuries' changes, the gorgeous Dujiangyan likes a record of the history attracting a growing number of tourists with the picturesque and splendid landscape. On November 29, 2000, Dujiangyan was listed as the world cultural heritage by UNESCO. Nowadays, Dujiangyan is not only the irrigation work, but also a popular scenic spot with many charming sceneries around--just like many stars twinkling around the moon.

The characterized members of the stars are the fish-mouth-like dyke--can solve the problem of irrigation in drought seasons, the bottle-neck-like sluice gate--can control the volume of inflowing water, the vent-like Feishayan--can release flood and silt from waterway to outer river, the 500-meter-long Anlan Suspension Bridge (called Couple's Bridge)--has experienced hundreds years' history since Song dynasty (960-1234), the garden-like Erwang-Temple with peaceful environment, and the 1800-year-old Dragon-Taming Temple.

Opening Hours: 09:00 -- 17:50

Ticket Price:
90 CNY for adults
45 CNY for kids between 1.1-1.4 meter, people between 60-69 years, the disabled and the students

Location: West Dujiangyan City, Sichuan

Transportation: Shuttle buses, subway and bus No. 1 to No. 17, 101, 102, 103, 201 and 202 will bring you here directly.