City God Temple
Located next to the Yu Garden and also known today as the Yu Garden Market, the City God Temple was built in the fifteenth century during the Ming Dynasty. Originally a temple built to honor the Han statesman Huo Guang (68 B.C.), it is a busy market today, specializing in traditional arts and crafts. Outside, however, it still looks like a temple.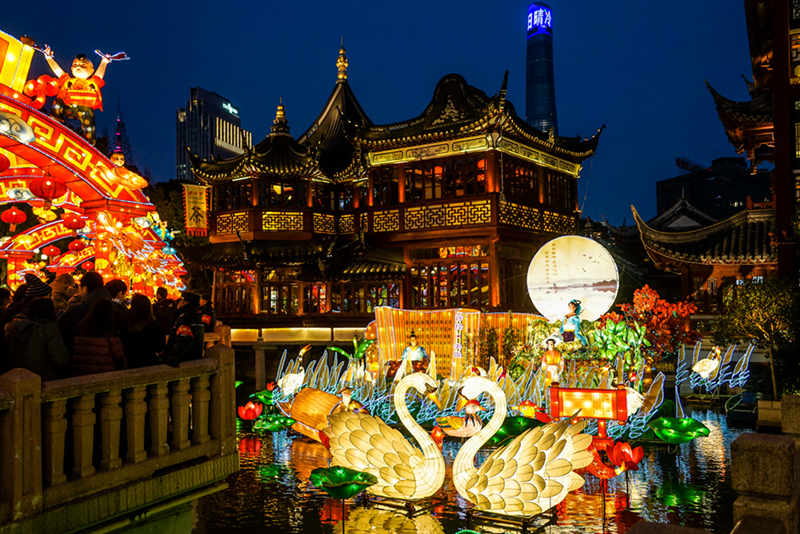 It was originally the Jinshan God Temple, dedicated to the spirit of Jinshan, or 'Gold Mountain', an island off the coast of Shanghai. It was converted into a City God's Temple in 1403 during the Yongle era of the Ming Dynasty (1368 - 1644), thus it is an old temple with the long history of about 600 years. When it was initially finished, it was small in size. Several additions and enlargement were made during Ming and Qing (1644 - 1911) Dynasties. When at its prime time, the coverage of the temple reaches up to 49.9 Mu (8.2 acres). Chenghuang Temple became very prosperous during Qing Dynasty. The popularity of the temple also led to more business to be set up in the area, turning the surrounding streets into a busy marketplace. Local residents and nearby visitors all thronged here in quest of their necessities, boutiques, jewellery. The present temple covers an area of more than 10,000 square meters including the Huoguang Hall, the Yuanchen Hall, the Caishen Hall, the Cihang Hall, the Chenghuang Hall and the Niangniang Hall.

One hundred years ago, as more and more pilgrims came to worship in the temple and pray for peace and fortune, many peddlers began to open shops near the City God Temple. Slowly, a popular, old-fashioned market came about.Shanghai residents enjoy shopping here; they can find things unobtainable elsewhere and they dine at their favorite restaurants.
Nowadays, City God Temple and the enclosed Yuyuan Garden have become modern large-scale shopping attractions with strong traditional colors. There is a glittering array of goods, ranging from glittering jewelry in swanky boutiques, to local snacks. Here you may taste featured dim sum at Lubolang Restaurant, tasty steamed bread at Songyuelou Restaurant, the delicious eight treasures meal at Songyunlou Restaurant, as well as the flavoursome local snacks.

Location:No.115 Yuyuan Road,Shanghai.
Entrance Fee: RMB 10
Opening Hours: 08:30 - 16:30
Transportation:
1) Take Bus No. 11, 64, 304, 736, 801, 920 or 930 and get off at Xiaodongmen stop, and walk to the temple;
2). Take Bus No. 17, 26, 320 or 926 and get off at Laobeimen stop, and walk to the temple;
3). Take Subway Line 10 and get off at Yuyuan station, and walk to the temple.