Great Wall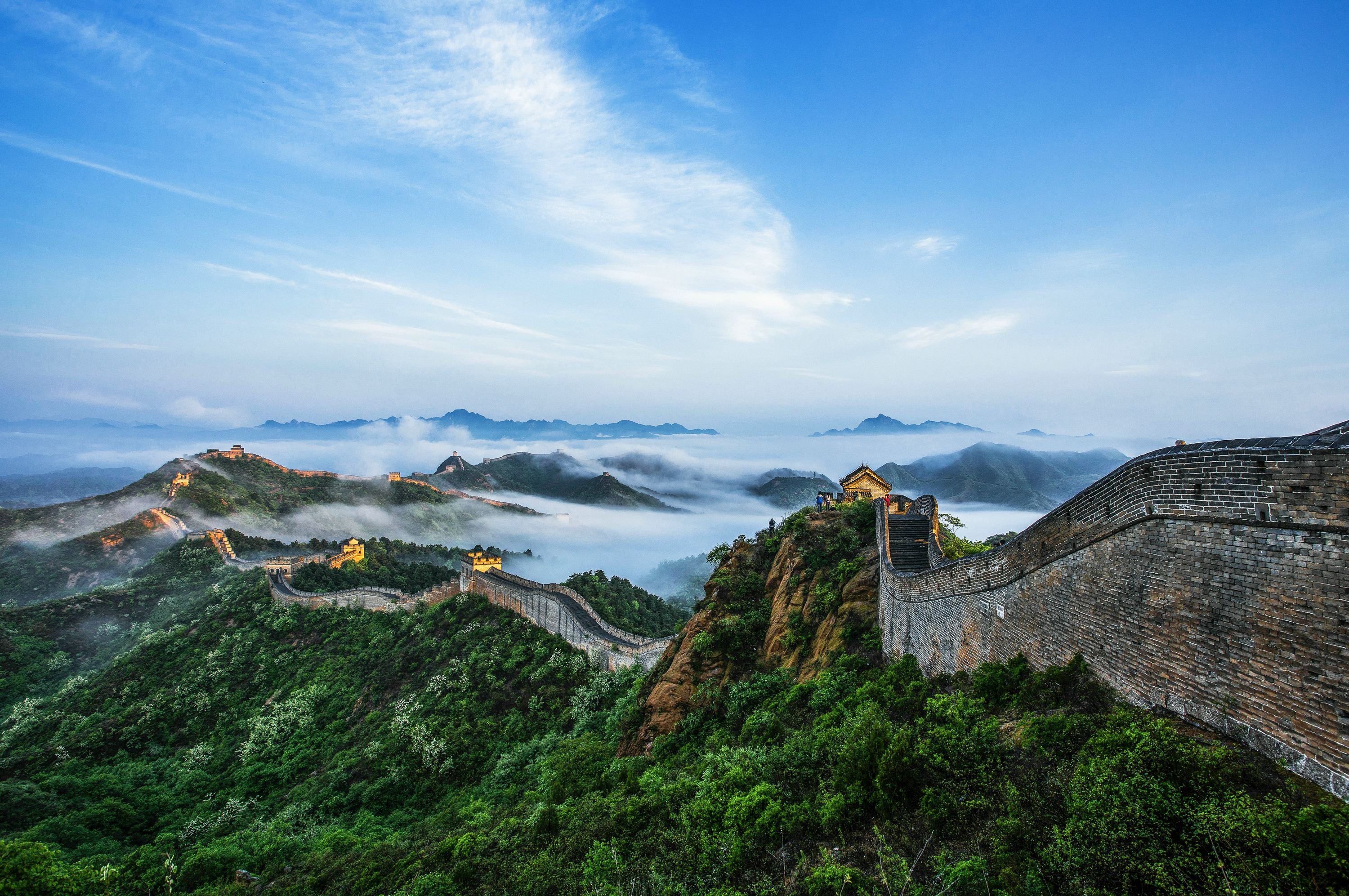 It is without doubt that the Great Wall is the greatest of civil engineering project of defense in ancient China. With its gigantic scale and difficulties in its construction, it is regarded as one of the great wonders in the history of mankind. The Great Wall is really the glory of the Chinese nation, which symbolizes the ancient culture and the long-standing history of China. Stretching over the mountain ranges, it proudly shows its magnificence to us. So to speak, the Great Wall has witnessed the rises and falls of innumerable dynasties and changes on the earth. At present, though the Great Wall is no longer served as a work of military defense against harassment and invasion. It still plays an important role in linking the Chinese people with the people of the rest of the world. It is one of the great bridges that build up friendship between different peoples.

The Great Wall is starting from the Old Dragon Head of the Shanhai Pass at the seaside in the east to a distance of 10,000 li (1 kilometer= 2 lis) in the west. Snaking along the north of China, it crosses three provinces, two municipalities and two autonomous regions. It is about 6,300 kilometers long, an equivalent of about 3,915 miles.

The present-day Great Wall originated from the early ancient Chinese history. During the time of Warring States Period (475-221 B.C.), in the purpose of defending themselves and against the infringement from the neighboring states, all the principal states had the walls built in the bordering areas of the territories. For example, the three states of Qin, Zhao and Yan had high walls and fortresses built along their northern frontiers to ward off the harassment by the Huns (an ancient nomadic tribe in China) from the north. In 221 B.C., the whole China was unified by the first emperor of the Qin Dynasty to defeat the six other ducal states. The emperor gave order to link up all the walls built by the former ducal states along the northern frontiers to prevent disturbing and attacking by the Huns. And these walls form the world famous "10,000-li Great Wall". From generation to generation, the succeeding dynasties kept on the work of maintenance and repairs or having parts reconstructed time and again. Among them, the greatest project on scale in the old days of China was carried out in the Han and Ming dynasties.

Throughout history, the Great Wall is served as the traditional defensive project. It is mainly composed by passes, walls, watchtowers and beacon towers. Builders were forced to rely upon local materials for the wall inched across the Chinese wilderness. For example, some wall was built with tamped-earth, some with stone, some with tamped mixture of reed, red willow, and sands, and some with bricks outside and stuffed earth and sands inside. The walls we see today are mainly Ming walls, primary made of stone and bricks. The key parts of the military construction are Watchtowers. They are very close to each other, among which brick towers could be two or three storeys. There is a small room on the top of the tower, surrounded by battlements. The watchtower was also used to station soldiers or store food and weapons. Thousands of passes stretch along the Great Wall. Some are between the mountains, some between the mountains and rivers, and some between the mountains and sea. During the wars, passes are the strongholds by acting as the gateways of transportation. Beacon towers are used for communicating, which can deliver the emergent military messages in a very short time.

Just like the symbol of China—dragon, the Great Wall snakes from east to west on the Oriental. Nowadays, five sections of the Great Wall are opened to public in Beijing, including Badaling section, Juyong Pass section, Mutianyu section, Jinshanling section and Simatai section.

Badaling Section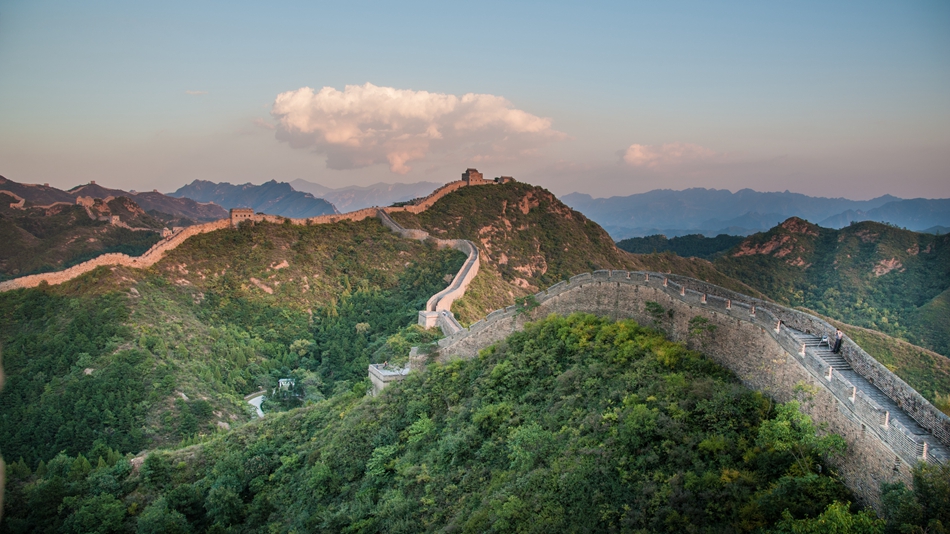 Badaling section is the outstanding part of the Great Wall. Lying in the Yanqing District, sixty kilometers northwest of Beijing, it gives vital protection for the Juyong Pass, which is one of the key passes of the Great Wall. According to its strategic importance of commanding, Badaling section is known as "giving access to every direction", which gains it the name Badaling.

Badaling was built in an early time in the ancient Chinese history. During Spring and Autumn Period and Warring States Period, defensive wall was constructed along the Yanshan Range to resist the marauding of the nomadic tribes. Since then the following dynasties continued to fortify the Badaling section. The wall we see today was constructed in Ming Dynasty (1368-1644 A.D.) along the ridges of mountains. The construction lasted about a hundred years long from 1505, the 18th year of Emperor Hongzhi, to the reign of Emperor Wanli.

The huge Badaling wall was strongly and firmly built. It was based on the foundation of granite slabs, surrounded by a facing of kiln-fired bricks, and covered with bricks on the top. All stuffed with pulverized lime, the slots could enable the wall to be smooth. The height of the wall is 8.5 meters. It is 6.5 meters wide at the bottom and 5.7 meters wide on the top, making it possible for 5 horses or 10 people march abreast on the top. Watchtowers are 0.5 or 1 kilometer apart from each other, which were full of vigor and grandeur, and orderly spotted the wall. The battlements and embrasures of the watchtower were in good condition in wartime. The wall winds its way along the ridge of the Jundu Mountain, rising abruptly to the peaks of each side of the Badaling. You will be amazed by its seemingly endlessness. It stretches far away into the remoteness. The wall of Badaling is 3, 741 meters long.

Among all the parts of the whole Great Wall, Badaling was the earliest section to be open to the tourists. Badaling has received 130 million tourists home and abroad. Among them, there are 370 foreign leaders and very important persons who have come to climb Badaling successively.

Mutianyu Section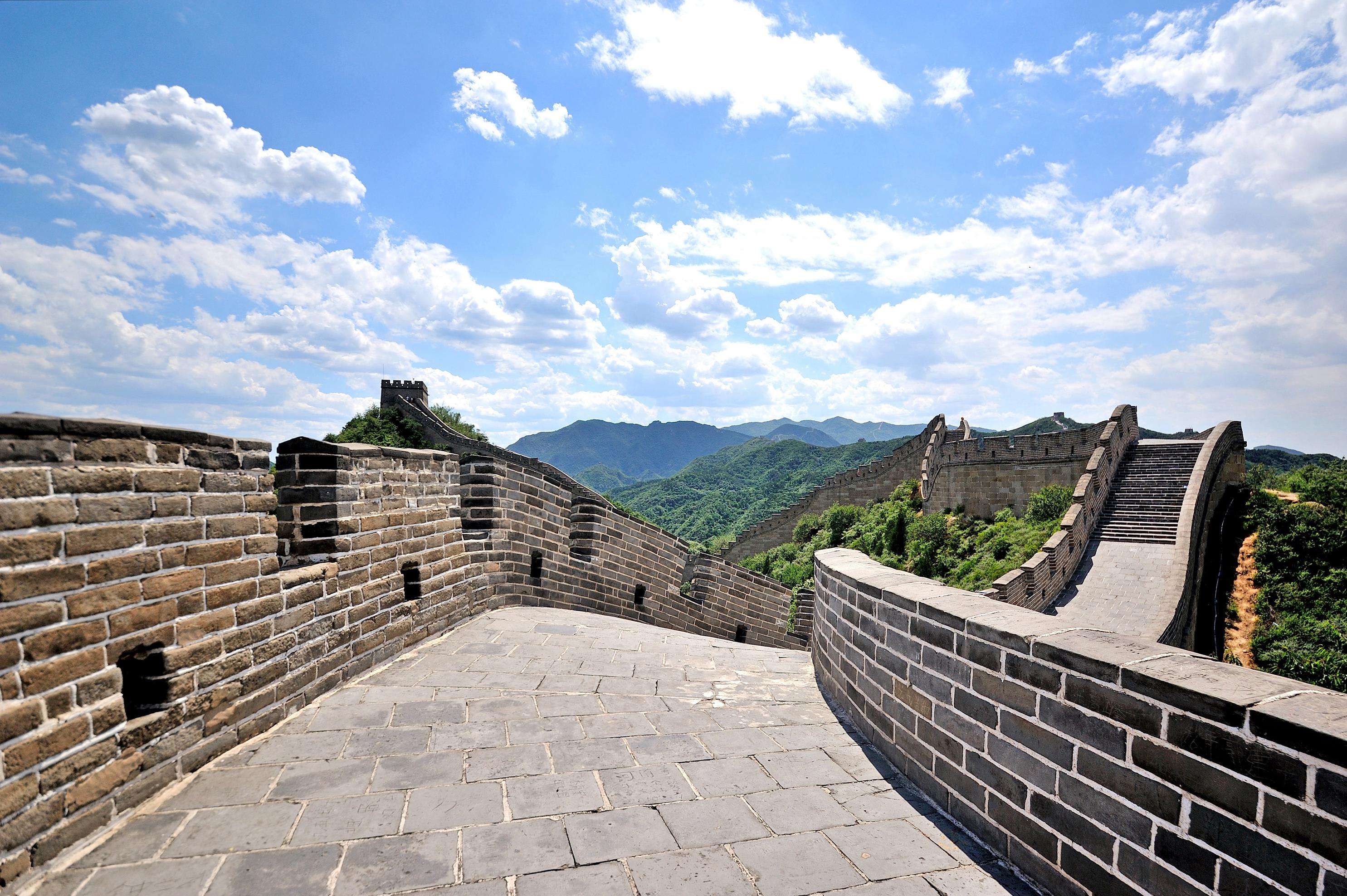 Mutianyu section is 75 kilometers northeast of Beijing. Lies in Huairou District, it links Juyong Pass in the west with Gubeikou Pass in the east. Mutianyu section is called as the Majestic Pass on Precipitous Mountains, commanding its strategic importance.

Because of its relatively gentle terrain, watchtowers of Mutianyu section were built in large numbers to strengthen its defensive functions. The closest watchtowers are less than 50 meters apart from each other. Both arms of the Mutianyu section stretch upwards along the ridges of continuous mountains. On the foundation of the Ming Dynasty wall The Mutianyu section was mainly built on precipitous mountains and 5-7 meters high. It is featured with a thick cluster of watchtowers atop, strategic passed, majestic vigor and unique structure. In this section, the gate tower is the most unique building.

Simatai Section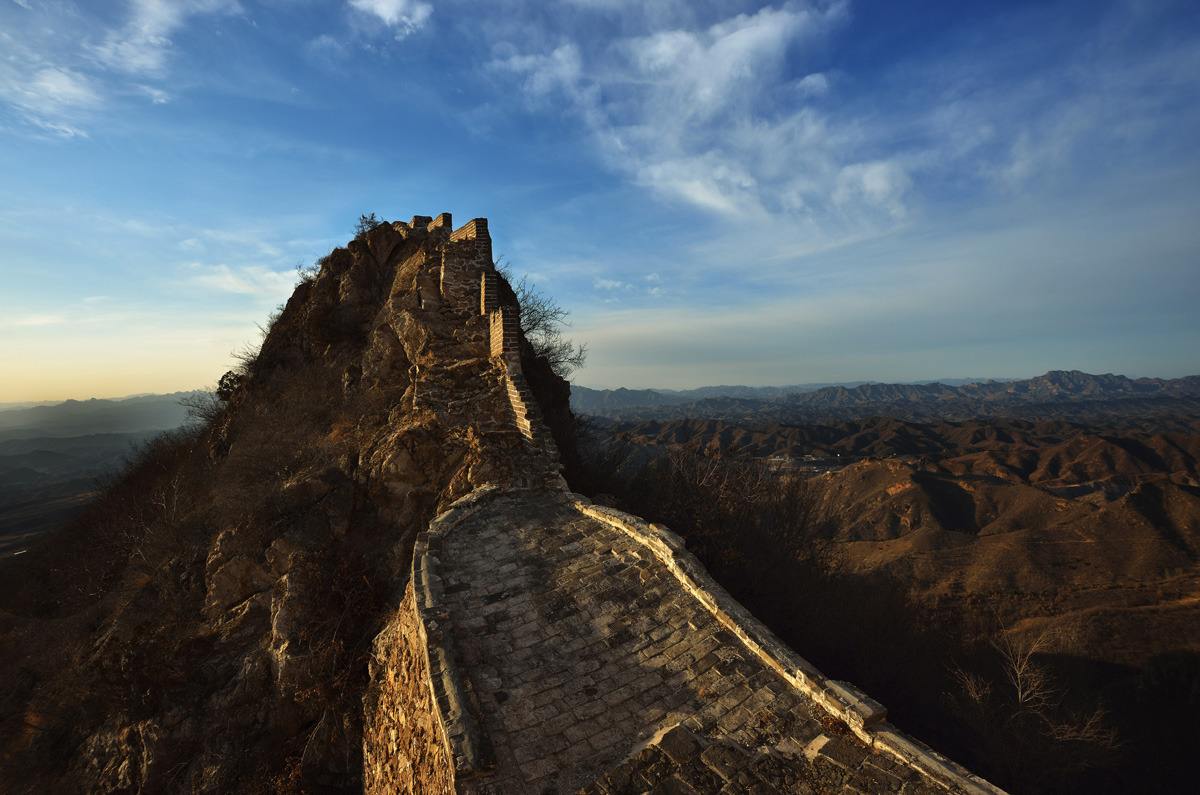 Simatai Section lies in the Miyun County, 120 kilometers away from Beijing. It started from Wangjing Tower in the east and connected with Jinshanling section in the west. Without hordes of other tourists, it is a largely unrestored and more authentic section of the Great Wall.

Simatai section was constructed during the early years of Ming Emperor Hongwu. It is said that there was a renovation applying from 1569 to 1573. It was mainly built along the ridge of the mountains because of its location in the mountainous area. Featuring in uniqueness, ruggedness and trimness, it perfectly coordinates with the undulating terrain, which makes it more majestic and magnificent. Simatai reservoir is situated at the foot of the central part of the Simatai section, which is 600-700 meters long with the storage capacity of 50,000 cubic meters.

Simatai section is considered to be the most wonderful part of the Great Wall. Taking good advantage of the fluctuating terrain, the walls and watchtowers constitute the most essential part of the wall. It is famous for its precipitous cliffs, magnificent towers, suspension walls and rugged stairways. If you are looking from distance, you may find that the Great Wall is just like a flying dragon in the cloud. However, when you stand nearby, the wall stretches its arms along the ridges of mountains. All these make it the most amazing part of the Great Wall.
Jinshanling Section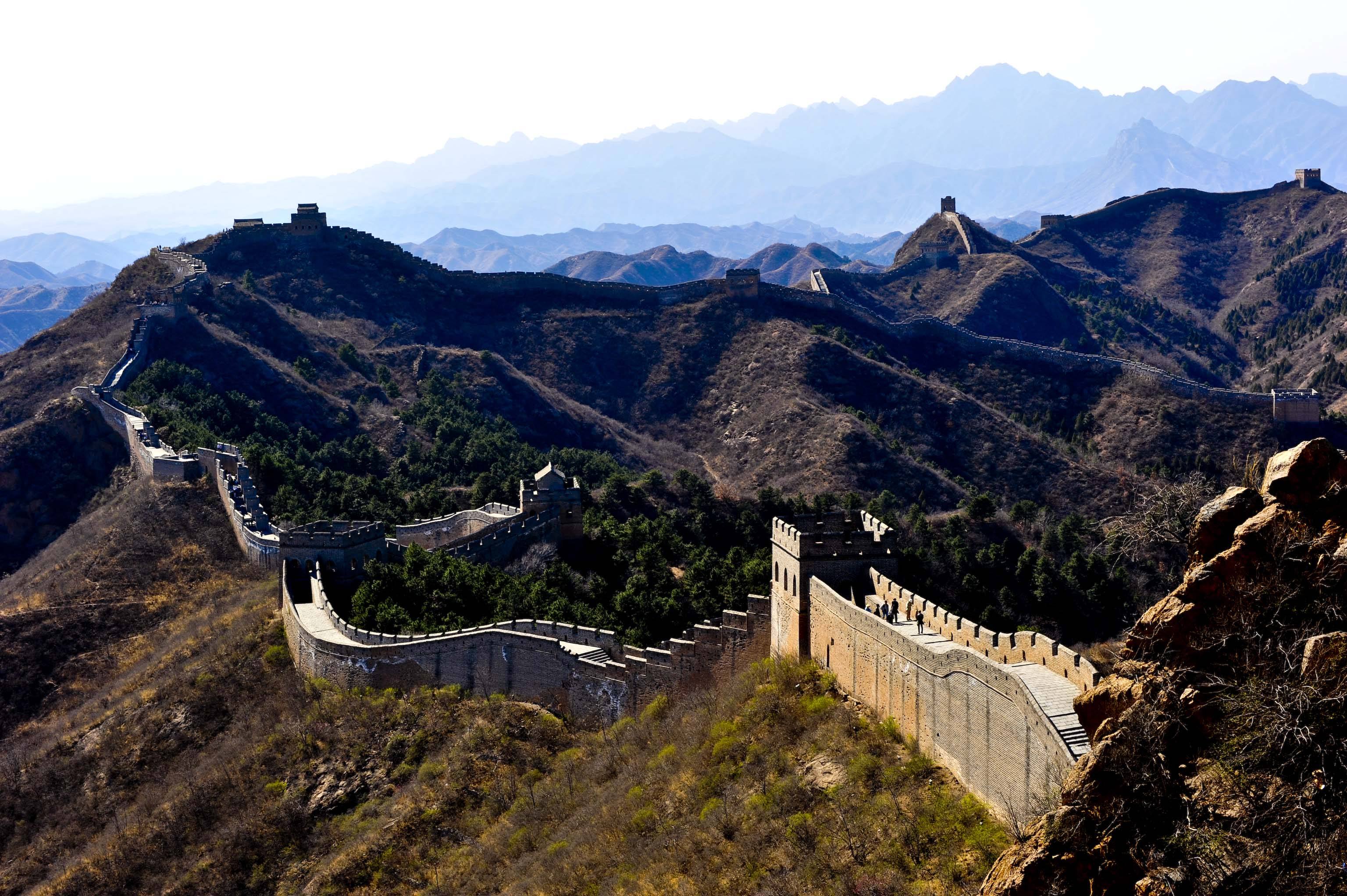 The Jinshanling Great Wall was initially built from 1368 to 1389 in the Ming Dynasty (1368-1644), and in 1567 and 1570 rebuilding of the Wall was mainly directed by General Qi Jiguang (1528-1588). Poems and tablet writings can be found on the Jinshanling Great Wall left from the time when Qi Jiguang directed the rebuilding of this section of the Great Wall. Continue to read more on the Great Wall history. Jinshanling is connected to the Simatai Great Wall in the east and the Panlongshan Great Wall in the west. Jinshanling has probably the highest frequency of towers per kilometer of any place along the Ming Dynasty Great Wall. It also has one of the greatest varieties of architectural and defensive styles of both wall and towers.
The total length of this section is about 11 kilometers (6.8 miles). The Wall is about 7 meters high and 5 meters wide, and is made of brick and stone. The Jinshanling Great Wall has an elevation of 700 meters. There are more than 100 watch towers along the Jinshanling Great Wall. 'Watching Beijing Tower' is on the highest point, from which you can see Beijing. The Jinshanling Great Wall is second only to the Badaling Great Wall in its completeness.