Eating in Beijing
Famous Local Food
Beijing Duck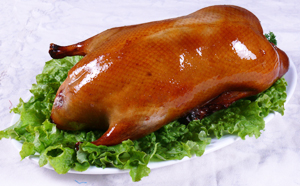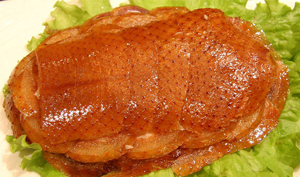 Beijing Duck is the most famous local dish in Beijing. To be more accurately, it is called Beijing Roast Duck whose name comes from the obsolete Anglicization of the name of Beijing. With great taste and delicious smell, the thin and crispy skin with little meat of the dish is mostly prized. One duck can be made into two dishes by most restaurants -- one with thin slices of skin with a small layer of fat underneath, and the other one with the duck meat.
Exploring the ancient Chinese history, we can find that the Beijing Duck can be dated back to the Yuan dynasty (1206 - 1368). And by the time of the early 15th century, it had gained the favor from the imperial Ming family. Quanjude and Bianyifang restaurants are the two most famous ones in Beijing which serve this specialty. With an establishment history of more than a hundred years, extensive network of chain stores of these two restaurants can be found in many cities.
Preparation
A very important thing in making Beijing Duck is the duck used must be one that with its head still attached. Firstly, inflate the duck with an air pump or other object, and separate the skin from the body. Secondly, scald the skin with boiling water to make it drier and tauter, and brush it with malt sugar (molasses) so that a dark, rich color with the slight aroma of caramel during the subsequent cooking process is required. Before hanging the duck by its neck in a hot oven where it is roasted for an hour or more, it has to be dried for half a day. And during the time it is roasted, the copious fat of the duck will melt off and then the skin will become crispy. Beijing Duck is not usually prepared at home for there is no large oven. You can eat it in a restaurant or buy already prepared at shops or restaurants and take back home to eat.
In north China, a special breed of duck is reared specially for cooking this dish. In order to make the ducks grow plump and without muscle, they are kept in individual cages and force-fed. Therefore, Beijing duck gains a name called Beijing stuffed duck.
Serving
There is a traditional way of serving Beijing Duck which is a three course meal: in the first course, crispy skin and steamed flour pancakes, slivered spring onions (also known as scallions), hoisin sauce, and plum sauce are served. One puts pieces of chopped duck skin on a pancake, adding a bit of hoisin sauce, plum sauce, and scallion. And then he may roll up the mixture, eating it with the fingers. The remaining meat of the duck is usually chopped up, stir-fried, and eaten wrapped in fresh lettuce, while the bones are used for making broth.
Restaurants of Beijing Roast Duck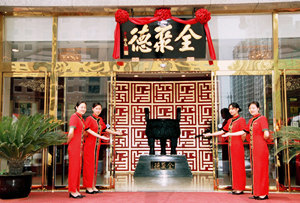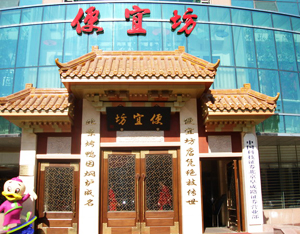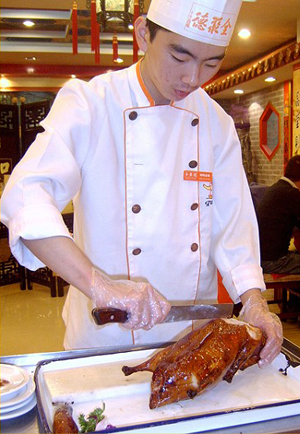 Quanjude Roast Duck Restaurant (Hepingmen Branch)
Average cost per person: 100 Yuan - 150 Yuan
Location: 14, Xi Da Jie, Qianmen, Xuanwu District
Hours: 11:00 - 14:00 17:00 - 21:00
Tel: 010-63023062, 63018833-1151
Quanjude Roast Duck Restaurant (Qianmen Branch)
Average cost per person: 100 Yuan - 150 Yuan
Location: 32, Qianmen Da Jie
Hours: 11:00 - 14:00 17:00 - 21:00
Tel: 010—6701 1379、6511 2418
Fax: 6701 1056
Quanjude Roast Duck Restaurant (Wangfujing Branch)
Average cost per person: 50 Yuan - 150 Yuan
Location: 9, Shuaifuyuan Hutong, Wangfujing Da Jie, Dongcheng District
Hours: 11:00-13:30 16:30-20:00
Tel: 010-65253310/010-65228384
Bianyifang Roast Duck Restaurant (Anhua Branch)
Average cost per person: 50 Yuan - 80 Yuan
Location: 6, Bei Sanhuan Zhong Lu, Chaoyang District
Hours: 11:00-14:00 15:00-21:00