Longyu Bay
Longyu Bay (Dragon Bathing Bay)is located in Luanchuan County, 165 kilometers away from Luoyang City. It is said the bay is where the dragon took bath in ancient times, hence the name. The bay stretches about 15 kilometers with dense forests,gorgeous peaks, ponds and brooks. It has been developed into a national forest park, first of its kind in Henan. It is open to public in 1994.There are total 218 scenic spots scattered in 12 scenic areas covering an area of 300 square kilometers.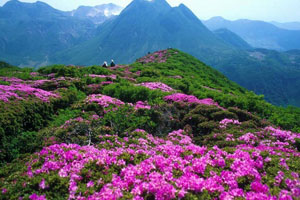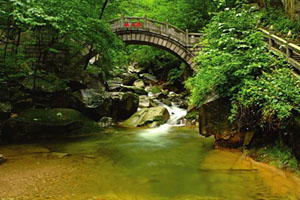 The Bay is located between sub-tropical zone and warm zone, providing perfect environment for varieties of plants and animals. It is estimated that there are more than 1,900 kinds of plants,800 kinds of herbs and 200 kinds of animals. The bay is densely wooded, which is dominated by pines and ancient trees. It is cool and the temperature is below 21℃, making an ideal place as summer resort. Thus, it is known as natural central air conditioners.
Cock's Mouth Peak in the bay claims to highest peak in the central plains of China with an altitude of 2,219 meters above sea level. With sheer cliff and misty clouds, the peak offer a grand view of the bay and it is ideal place to watch the sunrise. Beside the peak is azalea garden with a history hundreds of years. you will regret if you miss the blossom in every May, when azalea show it beauty in all kinds of colors.
Location: Luanchuan County, Luoyang City
Entrance Fee: RMB 50
Transportation: Long-distance bus is available to the Bay.