The Three Gorges of Yellow River
Along the spectacular Yellow River, the marvelous gorges together with the picturesque landscapes around make a shinning fairyland where numerous tourists have come for wonderful memories after traveling around the amazing grottoes, peaceful temples, natural lakes, mysterious caves and the fabulous hydroelectric station. Three Gorges, covering 40 square kilometers, are the essence of this scenic area on the Yellow River. Each gorge has its own characteristics.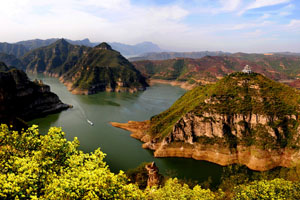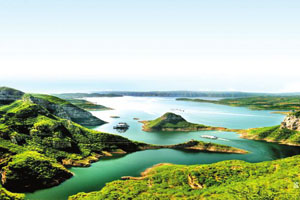 Bali Gorge with a nickname of 'Bali By-street' is the last and the narrowest section of the Yellow River gorges. Cliffs here are incredibly steep and smooth, while valleys, seen from a distance, connect so perfect that they look like a natural door, therefore people call it 'The Door of the Yellow River'. The current here is wild and strong and waves continually dash against the shore .The whole gorge is splendid.
Gushan Gorge goes from south to north. Here mountains and water become an inseparable whole; pavilions and small wooden houses stand beside the water and adorn the mountainsides. Traveling around, you will be impressed on the grand landscape and surrounded by a strong sense of poetry.
The Dragon and Phoenix Gorge twists and turns through precipitous cliffs. The mountain rocks are rugged; trees stand tall and serene; the mist and clouds are dense and the constant stream of water is loquacious. Here a blue pond is like a bright and quiet moon while the waterfall above is a white curtain draped on the hillside. The reason for the name of the gorge is that it and the Phoenix Slope supplement each other, forming a natural picture, which indicates fortune.
Opening Hours
: 8:00 -- 18:00
Location
: Yongjing County, Ningxia Hui Autonomous Region
Transportation
: Tour Buses from Luoyang bus station will bring you here.